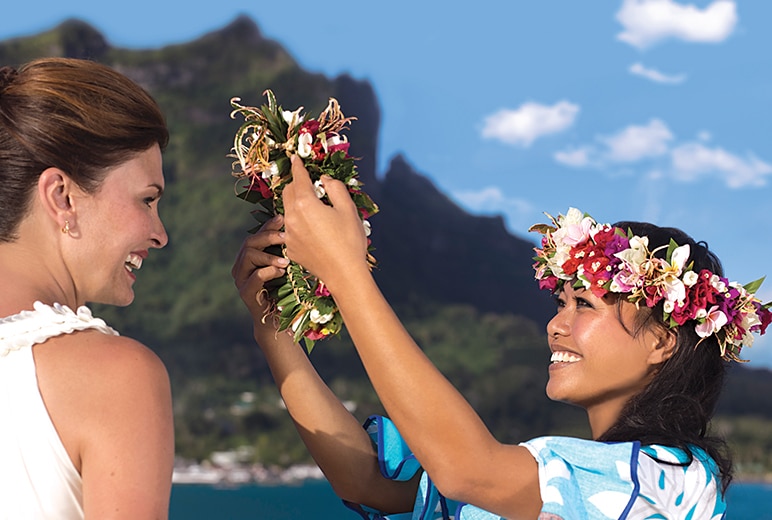 $600 Per Stateroom Welcome Gift
Book your first voyage aboard Tahiti's highest-rated cruise ship and enjoy a $600 Per Stateroom Welcome Gift on the itinerary of your choice. Paul Gauguin Cruises offers more unique itineraries to more boutique ports of call than any other luxury line with 7- to 14-night all-inclusive journeys to the Society Islands, Tuamotus, Marquesas, Cook Islands and beyond. Join us for a journey of authentic discovery and carefree luxury.
To take advantage of the $600 Per Stateroom Welcome Gift on your first voyage with Paul Gauguin Cruises, please call 800-848-6172 or contact your preferred travel advisor.
Tahiti & the Society Islands (7 Nights) – Roundtrip Papeete, Tahiti
Discover the picture-perfect charms of the South Pacific on this idyllic journey exploring islands that played muse for authors and artists like Michener and Gauguin. Allow Taha'a's vanilla-scented air to fill your senses on a visit to our own private motu. Relish the serenity of Huahine, a veritable Garden of Eden, and spend two fabulous days in both Bora Bora and Moorea—the grand dames of the Society Islands.
More Society Islands & Tahiti (7 Nights) – Roundtrip Papeete, Tahiti
This immersive exploration brings your dreams of French Polynesia into an indulgent reality: a return to Raiatea, a sacred isle with a revered UNESCO site; the serenity of Huahine, known as the Garden of Eden; and the dazzling lagoons of Moorea. Enjoy a blissful beach day on the sun-kissed shores of our own private motu and spend two glorious days in Bora Bora beneath the shadow of the iconic Mount Otemanu.
Society Islands & Tuamotus (10 Nights) – Roundtrip Papeete, Tahiti
Beyond Bora Bora's famed lagoon and legendary beauty or Moorea's stunning mountain peaks and palm-fringed beaches—both enjoyed on an overnight—this voyage entices with undersea adventures in the Tuamotus, including coveted diving and snorkeling in Rangiroa and rare discovery within Fakarava's renowned UNESCO-listed Biosphere Reserve. Explore Huahine's lush garden beauty and enjoy a day on our own private islet.
More Tuamotus & Society Islands (10 Nights) – Roundtrip Papeete, Tahiti
The world's largest group of coral atolls, the Tuamotu Archipelago is also the lowest point in French Polynesia—the remnants of submerged inactive volcanoes. This creates some of the best diving on snorkeling on Earth, with the isle of Fakarava a designated UNESCO Biosphere Reserve home to vibrant coral reefs and abundant marine life. This itinerary offers a deep dive into the treasures of the Tuamotus, highlighted by immersive exploration of the Society Islands, including a call in Raiatea, the sacred heart of Polynesia.
Cook Islands & Society Islands (11 Nights) – Roundtrip Papeete, Tahiti
With its towering peaks, turquoise lagoons, and reef-lined atolls, the South Pacific always enchants. Come explore the Cook Islands, from Rarotonga's rugged terrain and burgeoning food scene to the myriad tiny isles ringing Aitutaki. In the Society Islands, relish two days in bucket-list mainstays Bora Bora and Moorea, discover Huahine's archaeological sites amidst the rainforest, and relax on Motu Mahana, our private slice of paradise.
Marquesas, Tuamotus & Society Islands (14 Nights) – Roundtrip Papeete, Tahiti
Voyage deep into three of French Polynesia's famed archipelagos to snorkel the Technicolor underwater wonders of Fakarava in the Tuamotus and search for archaeological ruins and ancient petroglyphs in the tropical rainforests of the Marquesas—among the most remote islands on Earth. Fall in love with the pristine beaches, azure waters, and legendary lagoons of Bora Bora and Moorea in the fabled Society Islands.
Islands of the Marquesas & Tuamotus (14 Nights) – Roundtrip Papeete, Tahiti
Farther away from any continental landmass on the planet, the Marquesas are explored in-depth with visits to five islands, including two maiden calls in Hatiheu, Nuku Hiva and Hakahau, Ua Pou—both renowned for their dramatic cliffs and extraordinary scenery. Discover archaeological sites nestled within tropical forests, and journey to the Tuamotus to snorkel Fakarava's UNESCO-listed Biosphere Reserve and Rangiroa's "endless lagoon."
Terms & Conditions: New bookings only. Applicable on guests' initial booking with Paul Gauguin Cruises or Ponant. Mention code BWELCOM. Promotion is combinable with PG Bonus, National Account offers, Canadian residents discount, and two (2) SBC offers. Promotion is not combinable with PG Society Savings, groups, Interline, reduced rate or free of charge bookings. $600 discount applies to double occupancy bookings. Single occupancy bookings receive a $300 discount. Additional terms may apply. Call for details. Ship's registry: Wallis & Futuna