New Itineraries with the World's #1 Small-Ship Ocean Cruise Line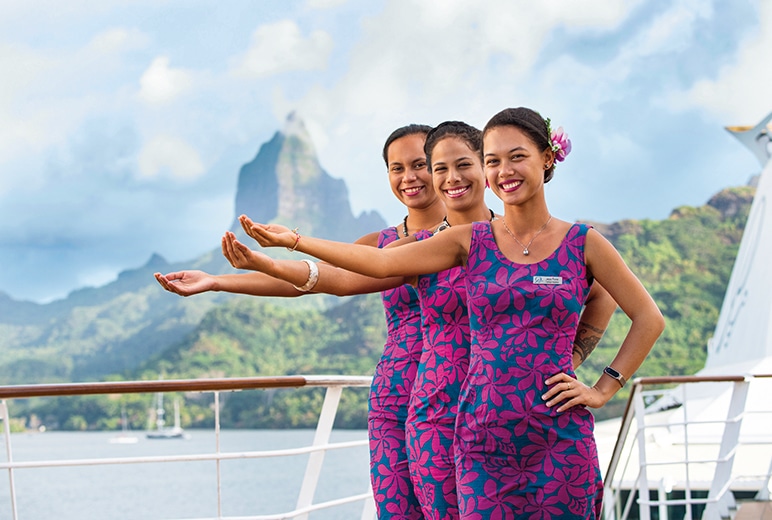 Deep in the South Pacific, a collection of staggeringly beautiful volcanic isles awaits your arrival… where jagged peaks pierce clouds and sky, and valleys of lush-green rainforest blanket ancient culture, myth, and legend. We're talking about the Marquesas Islands, and the best way to explore them is aboard the intimate, award-winning m/s Paul Gauguin. In 2024, Paul Gauguin Cruises continues its authentic discovery of French Polynesia and the South Pacific with new itineraries and new ports in the Marquesas, joining the line's classic favorites from Tahiti and Bora Bora to Tonga and Fiji.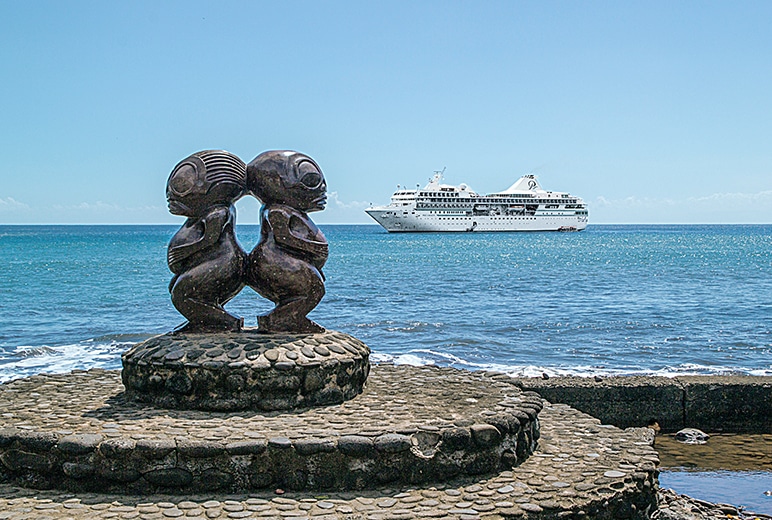 FRENCH POLYNESIA & BEYOND: A PRIMER
Before we delve into the highlights of the seven unique itineraries on offer for 2024 – two of them brand new – let's start with a quick primer on this fabled region. Located in the middle of the South Pacific Ocean, about 3,730 miles east of Australia and 4,660 miles west of Chile, French Polynesia covers an area of some two million square miles (about the size of the European Union!). And as we like to say, the flight is "just two cocktails and a movie past Hawaii" making this bucket-list paradise a lot closer than you think.
Say "French Polynesia" and the first thing that likely comes to mind is a vision of swaying palms, pristine beaches, and snorkeling amidst coral reefs in crystal-clear waters of every shade of blue (let's add a refreshing coconut drink and sunshine for good measure, too). And while that image is totally on point, this French overseas territory is comprised of five different archipelagos, each with its own special attributes – among them the Society Islands, Tuamotus, and Marquesas. Beyond French Polynesia we find the alluring Cook Islands, Tonga, and Fiji, all considered part of Polynesia (if not French!). Not only is The Gauguin specifically built to navigate the idyllic atolls and lagoons found throughout all of these South Pacific isles, but with a dedicated year-round presence, Paul Gauguin Cruises offers more unique itineraries and more boutique ports of call than any other luxury cruise line.
Below we share an overview of the regions to be explored in 2024 on 33 all-inclusive journeys ranging from 7 to 14 nights. All voyages travel round-trip from Papeete, Tahiti, with the exception of one itinerary cruising between Papeete and Lautoka, Fiji.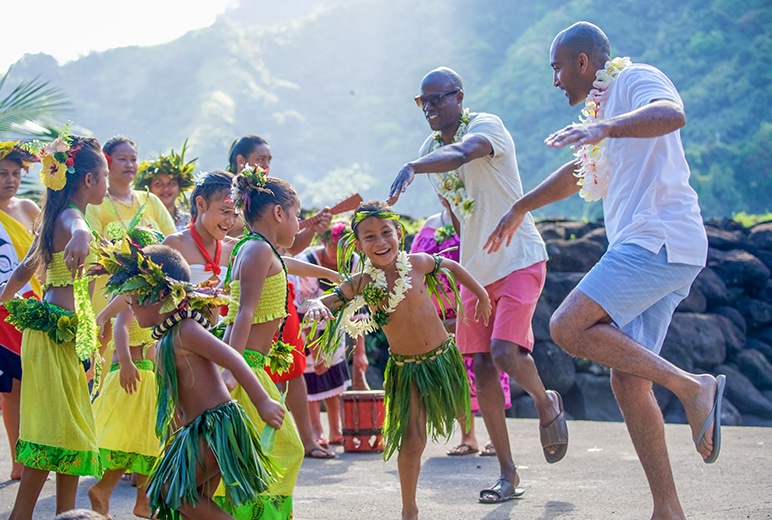 The Society Islands, French Polynesia
Home to Tahiti – the largest island in all of French Polynesia, Bora Bora – legendary for its brilliant lagoon and iconic Mount Otemanu, and heart-shaped Moorea – known for its stunning mountains and palm-fringed beaches, this is the French Polynesia of your dreams; the inspiration for Michener's mythical Bali Hai. The "Garden Isle" of Huahine entices with some of the best-preserved archaeological sites hidden amidst its rainforest, and Taha'a – the vanilla island – plays host to Motu Mahana, our own private islet where an indulgently exclusive beach day is included on every itinerary. In 2024, a new 7-night More Society Islands & Tahiti itinerary featuring a return to Raiatea, the sacred homeland of the Maohi people and the UNESCO-listed Marae Taputaputea archaeological site, joins our classic 7-night Tahiti & the Society Islands journey.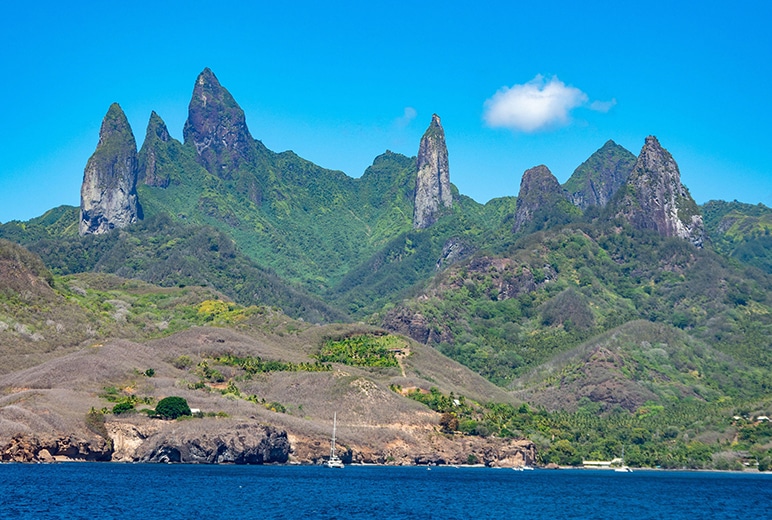 Tuamotu Atolls, French Polynesia
To the east of the Society Islands lies the Tuamotu archipelago, the world's largest group of coral atolls that represent the lowest point in French Polynesia. These 75 "flat islands" sit in striking contrast to their high "mountainous neighbors" found elsewhere in the region. But ahhh… the Tuamotus are a must-see for divers and snorkeling aficionados, home to extraordinary reefs and underwater flora and fauna: Rangiroa is often called the world's most immense natural aquarium, while Fakarava is an unspoiled paradise that lays claim to a UNESCO Biosphere Reserve. The Gauguin's 10-night Society Islands & Tuamotus itinerary showcases this region known around the world for its vibrant underwater ecosystem.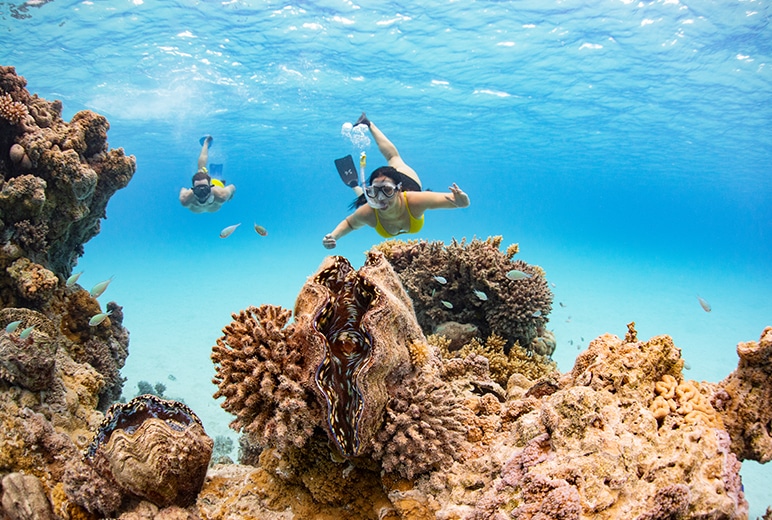 Marquesas Islands, French Polynesia
"Off the wind on this heading lie the Marquesas…" Indeed, this remote archipelago northeast of the Tuamotus has long been revered in song, literature, and art, having attracted authors Herman Melville and Robert Louis Stevenson, and serving as the final resting place for poet Jacques Brel and post-Impressionist painter Paul Gauguin. A new 14-night Islands of the Marquesas & Tuamotus voyage features five calls in the Marquesas – two of them brand new including Hatiheu, Nuku Hiva, regarded for its black sands, towering basalt cliffs, and ancient petroglyphs; and Hakahau, Ua Pou, one of the least visited isles in French Polynesia that impresses upon approach by ship with its jagged pinnacles and intimate bays. An alternate 14-night Marquesas, Tuamotus & Society Islands itinerary is also offered, featuring a different line-up of ports.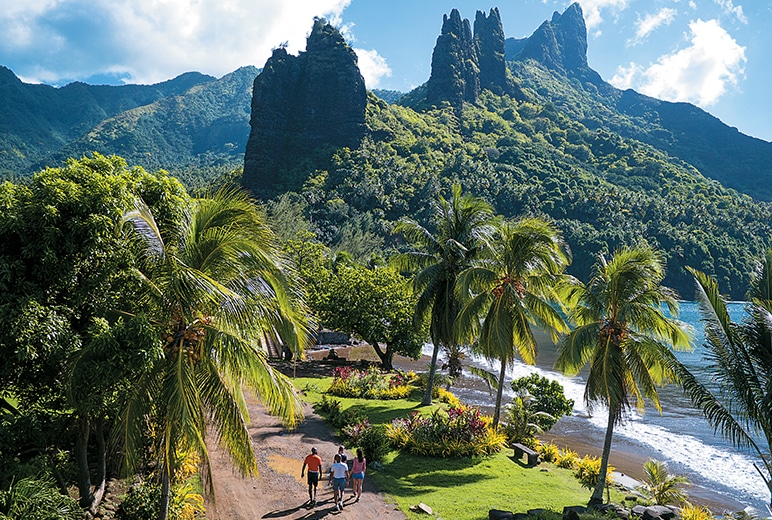 Cook Islands, South Pacific
Due west of French Polynesia are the Cook Islands, an unspoiled paradise recognized by Lonely Planet as a Top Country in its 2022 Best in Travel. Here there are no branded resorts and no buildings taller than a coconut tree. Rarotonga is the archipelago's hub, richly covered in mountains that soar more than 2,000 feet above clear-blue seas, coral reefs, and nearly untouched lagoons. A visit to Aitutaki, a triangle-shaped atoll covered in palms and sugary sands, affords access to One Foot Island, considered one of Polynesia's best beaches. The Gauguin's 11-night Cook Islands & Society Islands itinerary showcases the incredible beauty and diversity of the two archipelagos.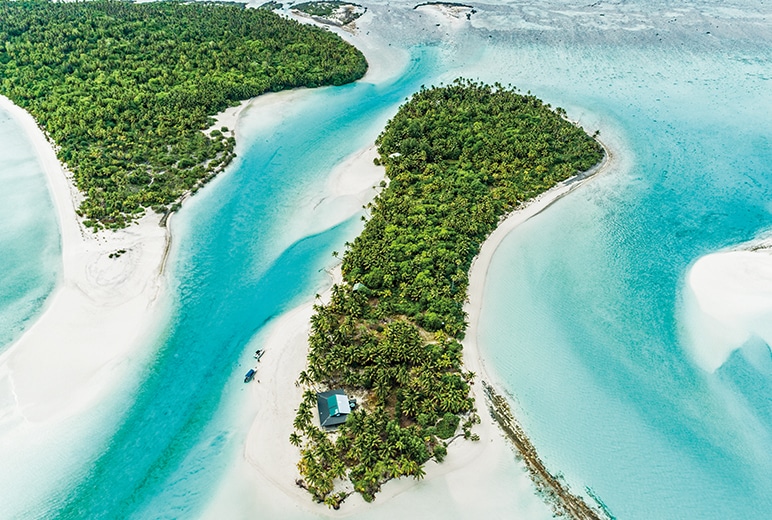 Tonga & Fiji, South Pacific
Farther west still lie the Kingdom of Tonga, aka "The Friendly Isles," and the islands of Fiji, whose website currently reads: "Open for Happiness." Obviously, any journey to these destinations is going to be a feel-good experience! Tiny-but-mighty Tonga is Polynesia's only remaining monarchy and takes great pride in being the only island nation in the Pacific not to have been colonized by a foreign power. A call in Vava'u invites the discovery of its culture and food, hiking Mount Talau, and snorkeling in its crystalline lagoon. Meanwhile, Fiji's stunning scenery, pure-white sand beaches, and reef-rich waters so blue they seem to glow are the stuff of legend. Here you can stroll palm-lined streets in Lautoka, snorkel coral blooms on Beqa Island, marvel at Suva's unique mix of modern and colonial style, and discover the South Seas of yester-year in Savusavu, called the "Hidden Paradise of Fiji." A 14-night Fiji, Tonga, Cook & Society Islands itinerary between Papeete and Lautoka crosses the International Date Line, meaning you might be traveling for 12 or 13 days, depending on the direction of your cruise!
Follow your wanderlust and make plans now to explore paradise with Paul Gauguin Cruises in 2024, the expert in French Polynesia and South Pacific explorations.