Paul Gauguin Cruises has been honored by notable names in the travel and lifestyle industry for our award-winning luxury voyages which some deem the world's best cruises. We are fortunate to be recognized for our top cruises including being voted "World's Best Small-Ship Cruise Line" and "World's Best Small-Ship Cruise Line for Families" by the readers of Travel + Leisure. Paul Gauguin Cruises has also received exceptional cruise reviews and accolades from our guests who thank us for providing the best cruises in the world. We invite you to sail with us and experience our top cruises.
---
Most Recent Awards
Luxury Lifestyle Awards (2022)
"Best Luxury Cruises in Tahiti, French Polynesia"
Global Traveler, Leisure Lifestyle Awards (2022) – Seventh Consecutive Year
"Best Small-Ship Cruise Line"
Travel + Leisure, World's Best Awards (2021)
"#3 Midsize-Ship Ocean Cruise Line"
The Trazees (2021) – Second Consecutive Year
"Favorite Cruise Line"
USA Today, 10Best Readers' Choice Awards (2021)
"#5 Best Small Cruise Ship"
World Cruise Awards (2021)
"World's Best Cruise Ship for Romance"
LuxLife Magazine, Travel & Tourism Awards (2021)
"Best South Pacific Cruise Experience"
LuxLife Magazine, Travel & Tourism Awards (2021)
"Midsize Cruiseship Company of the Year"
Condé Nast Traveler, The World's Best Cruises (2021)
"Gold List"
Additional Awards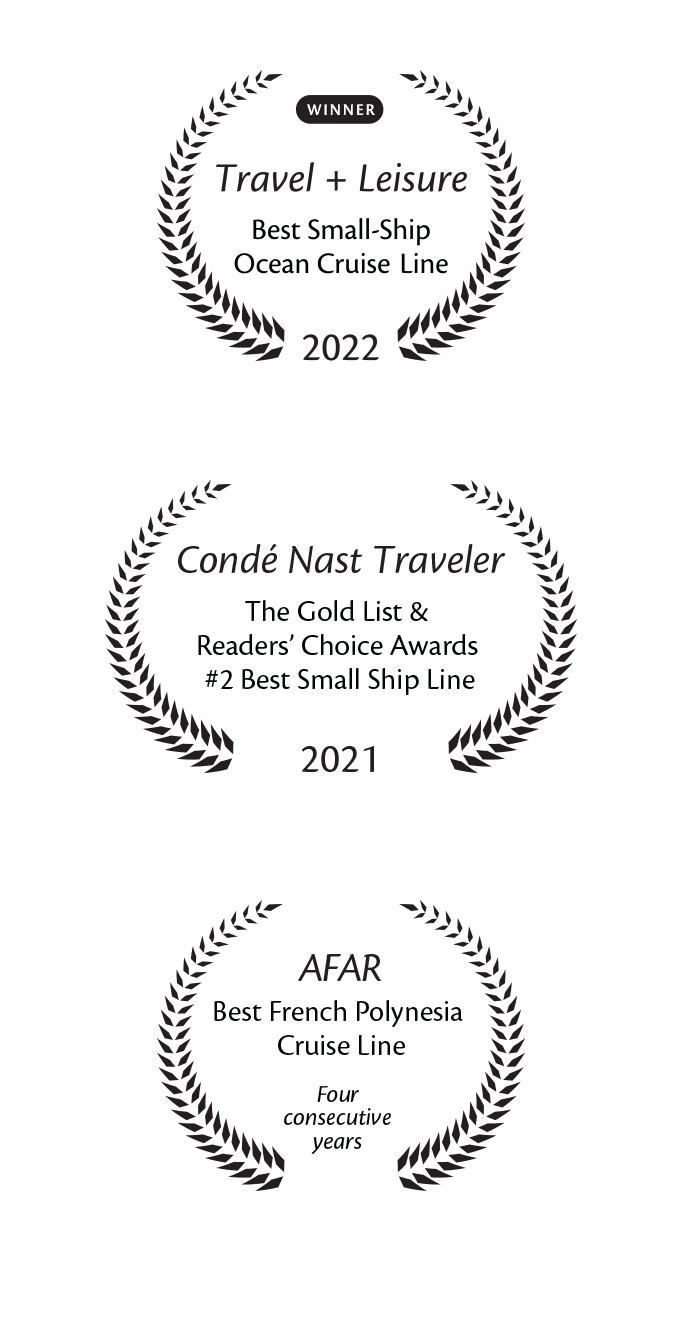 Travel Weekly, Reader's Choice Awards (2020)

"Cruise Line Under 500 Berths Winner"

AFAR, Travelers' Choice Awards (2020)

"Best French Polynesia Cruise Line"

The Trazees (2020)

"Favorite Cruise Line"

Condé Nast Traveler, Readers' Choice Awards (2020)

"#4 Best Small-Ship Cruise Line"

USA Today, 10Best Readers' Choice Awards (2020)

"#7 Best Ocean Cruise Line"

USA Today, 10Best Readers' Choice Awards (2020)

"Best Small Cruise Ship"

Global Traveler, Leisure Lifestyle Awards (2020) – Fifth Consecutive Year

"Best Small-Ship Cruise Line"

Travel + Leisure, World's Best Awards (2020)

"#3 Midsize-Ship Ocean Cruise Line"

Gold Travvy Award travAlliancemedia (2020)

"Best Cruise Line Australia/New Zealand/South Pacific"

Travel + Leisure, World's Best Awards (2019)

"#1 Midsize-Ship Ocean Cruise Line"

Condé Nast Traveler, Readers' Choice Awards (2019)

Finalist "Top Small Ship Cruise Lines"

Travelers' Choice Awards AFAR (2019)

"Best French Polynesia Cruises"

Global Traveler, Leisure Lifestyle Awards (2019)

"Best Small-Ship Cruise Line"

BRIDES Magazine, Honeymoon Awards (2019)

"The Most Romantic Spots to Travel"

USA Today 10Best Readers' Choice Awards (2019)

Finalist "Best Small Ship"

USA Today 10Best Readers' Choice Awards (2019)

Finalist "Best Boutique Cruise Line"

Cruise Critic, Small Ship Category, Cruisers' Choice Awards (2019)

"Best for Service"
"Best for Cabins"

"Best for Embarkation"

"Best for Entertainment"

Gold Travvy Award travAlliancemedia (2019)

"Best Cruise Line Australia/New Zealand/South Pacific"

Silver Travvy Award travAlliancemedia (2019)

"Best Small Ship Cruise Ship"

Women's Choice Award (2015-2019)

"America's Most Recommended Brand for Small Ship Cruising"

Women's Choice Award (2015-2019)

"America's Most Recommend Brand for South Pacific Destinations"

Travel + Leisure, World's Best Awards (2018)

"#2 Midsize-Ship Ocean Cruise Line"

Condé Nast Traveler (2018)

"The World's Best Cruises" Gold List

Condé Nast Traveler, Readers' Choice Awards (2018)

Finalist "Top Small Ship Cruise Lines"

AFAR Travelers' Choice Awards (2018)

"Best Tahiti and French Polynesia Cruise Line"

Travel Weekly (2018)

"Gold Magellan Award"

"This Overwater Bungalow Sails" Advertising/Marketing Campaign

Gold Travvy Award travAlliancemedia (2018)

Best Cruise Line Australia/New Zealand/South Pacific

Travel + Leisure, World's Best Awards (2017)

"#1 Midsize-Ship Ocean Cruise Line"

Winner "Best French Polynesia Cruise Line"

Finalist "Best Small-Ship Cruise Line"

Finalist "Best Onboard Culinary Programs and Restaurants"

AFAR Travelers' Choice Awards (2017)

Finalist "Top Small Ship Cruise Lines"

Condé Nast Traveler, Readers' Choice Awards (2017)

Cruisereport.com, Editors' Choice Awards (2017)

Most Romantic Cruise Line

Porthole Cruise Magazine, Readers' Choice Awards (2017)

"Best South Pacific Itineraries"

Global Traveler, Leisure Lifestyle Awards (2017)

"Best Small-Ship Cruise Line"

BRIDES Magazine, Honeymoon Awards (2017)

"#1 Top Cruise Line for Honeymooners"

USA Today 10Best Readers' Choice Awards (2017)

"Best Boutique Cruise Line"

Town & Country (2017)

"Best Sports Marinas"


Travel Weekly (2017)

"Gold Magellan Award"

Cruise Overall: Small Cruise Ship

(500 passengers or under)

Travel Weekly (2017)

"Silver Magellan Award"
Cruise Marketing: Advertising/Marketing Campaign "Tahiti Weddings & Honeymoons"

Cruise Critic, Small Ship Category, Cruisers' Choice Awards (2017)

BRIDES Magazine, Honeymoon Awards (2018)

"Top All-Inclusives"

Global Traveler, Leisure Lifestyle Awards (2018)

"Best Small-Ship Cruise Line"

USA Today 10Best Reader's Choice Awards (2018)

"Best Boutique Cruise Line"

TravelAge West, Wave Awards (2018)

"Best Expedition Cruise Line (Ocean-Going)"

Travel Weekly (2018)

"Gold Magellan Award"

Cruise Overall: Small Cruise Ship

(500 passengers or under)