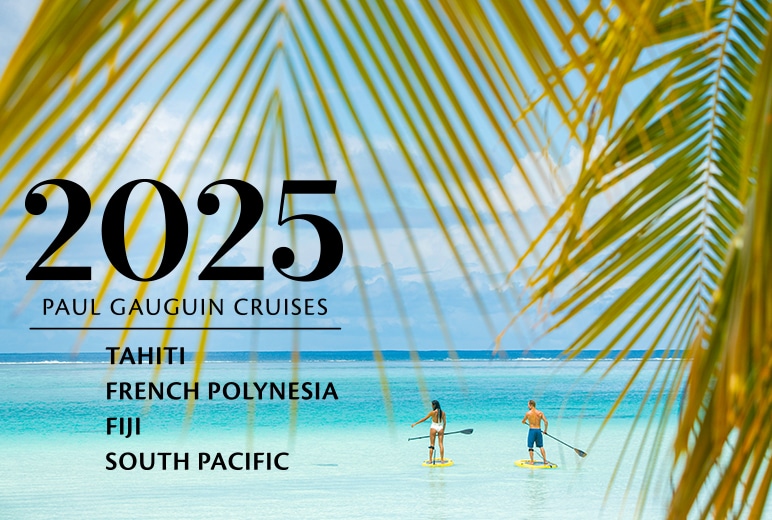 TRADE PREVIEW: 2025 Deployment
Voyages Open for Sale on June 15, 2023
We are pleased to share a preview of our 2025 Sailing Schedule with our valued travel advisors before reservations open to the public on June 15, 2023. Accredited PEARLS Partners will enjoy an exclusive booking window from June 9-14, 2023, as an added benefit.
Among the six unique itineraries on offer aboard the enchanting m/s Paul Gauguin is a new 10-night More Tuamotus & Society Islands itinerary featuring our first-ever overnight in Fakarava, Tuamotu Archipelago, a UNESCO Biosphere Reserve celebrated for its diving and snorkeling, and a call to Raiatea, Society Islands, considered the sacred heart of French Polynesia.
Paul Gauguin Cruises is renowned for revealing Polynesia with artful authenticity, offering more unique itineraries to more boutique ports of call than any other luxury line in the region. Our curated voyages showcase the natural and cultural wonders of the Society Islands, Cook Islands, Tuamotus, Marquesas, Tonga, and Fiji on voyages of 7 to 14 nights.
Consider this: with one to three overnight stays on every journey, The Gauguin offers your clients an 'overwater bungalow' that sails, balancing time in iconic lagoons with the carefree luxury of navigating some of the most beautiful archipelagos on Earth.
All-inclusive fares start at $2,990 with savings up to 30%.
Download 2025 Sailing Schedule
VOTED #1 BEST SMALL-SHIP OCEAN CRUISE LINE
TRAVEL + LEISURE FOR 2022
Price listed is per person cruise only, double occupancy and includes promotional discounts and port security and handle fees. Pricing is subject to change at any time. The category of cabin to which this price applies may no longer be available. Airfare and transfers are available upon request. Call for full details.