October 19, 2023
Artfully Authentic Insight
Post-Impressionist artist Kim McDonald is renowned for her paintings of Pacific island landscapes that also capture the beauty and grace of Polynesian culture. As our guest blogger this month, here she shares her own 'impressions' of the uniquely artful m/s Paul Gauguin.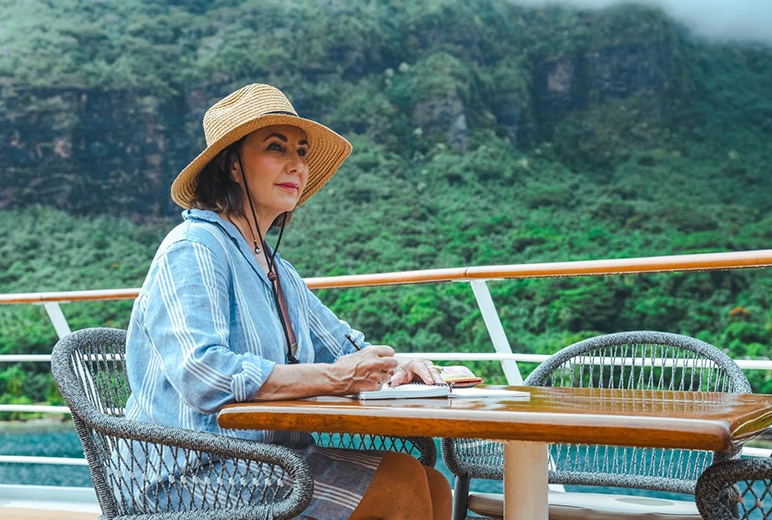 Artist Kim McDonald sailing aboard the m/s Paul Gauguin; May 2023.
Kim recently traveled on one of our 11-night "Cook Islands & Society Islands" itineraries as a guest lecturer, speaking about her life's work as a post-Impressionist artist—and not surprisingly, her deep admiration for the art of Paul Gauguin, particularly the body of work he did while living in French Polynesia.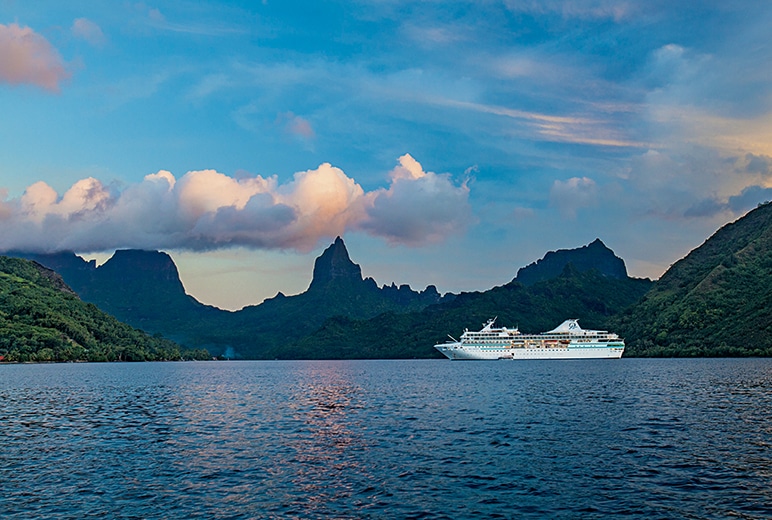 Named in honor of the iconic French artist, the award-winning m/s Paul Gauguin finds a natural home throughout the islands of French Polynesia.
What makes Paul Gauguin Cruises so special?
The ship, the m/s Paul Gauguin. From an artist's perspective, the ship is a marvel—it reflects a deep understanding of the aesthetic of Paul Gauguin, the Pacific atolls and the lush tropical islands. The interiors are bathed in ocean color palettes—almost an extension of what you see when you look out your window. On board, you are immersed in Gauguin's world. The fabrics could have emanated out of a Gauguin painting. There are eye-catching red-orange chairs whose color could have come right out of his "When Will You Marry?" oil painting. As if that weren't enough, in the ship's gallery there are three of Gauguin's actual original pieces! The staterooms are sumptuous and spotless, and each one has a panoramic view of the endless Pacific scenery.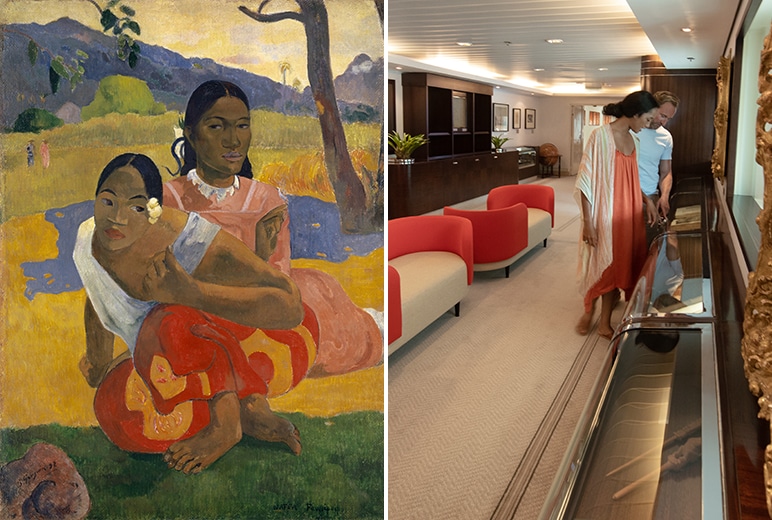 L to R: Artist Paul Gauguin's "When Will You Marry?"; guests browsing authentic Polynesian artisan works in Fare, the art gallery aboard The Gauguin.
What are the itineraries like on Paul Gauguin Cruises?
The Gauguin offers a range of 7- to 20-night voyages exploring French Polynesia, Fiji, Bali, and beyond. Each itinerary is unique and below is a snapshot of the amazing adventures, shopping opportunities, delicious discoveries, and must-see experiences enjoyed on my odyssey. [Editor's note: Kim's itinerary cruised round-trip from Papeete, Tahiti, Society Islands, exploring the islands of Huahine, Society Islands; Aitutaki and Rarotonga, Cook Islands; Bora Bora (overnight), Taha'a/Motu Mahana, and Moorea (overnight), Society Islands.]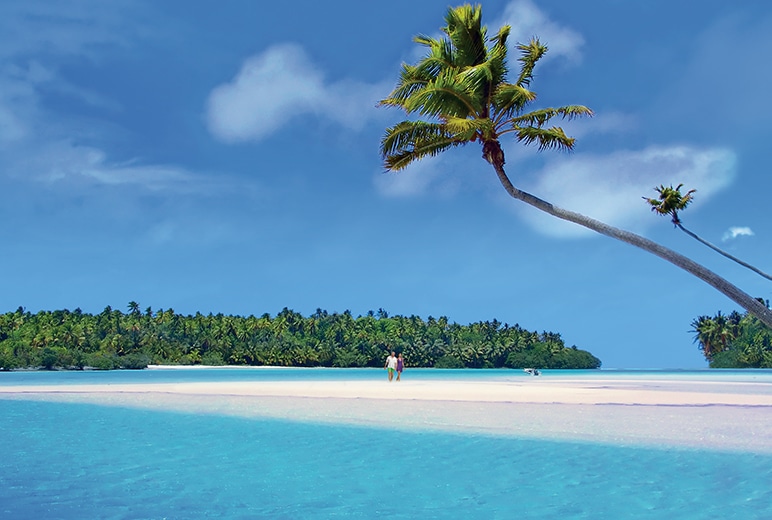 The Cook Islands are home to some of the world's clearest waters, with visibility of up to 195 feet. (Fun Fact: Here, no building is taller than a palm tree!).
The Cook Islands
Home to unbelievably clear waters and untouched, uninhabited islands, here you can spend days snorkeling, shell-collecting, or perfecting your tan in paradise.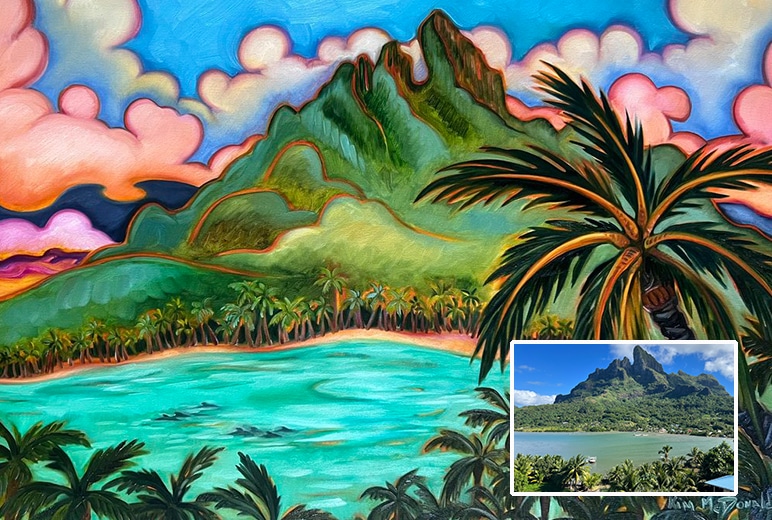 "Bora Bora" by Kim McDonald @kimmcdonaldart; (inset) the mountains that inspired the painting.
Bora Bora
Wow! This barrier reef island offers helicopter tours, wave-runners (great for thrill-seekers), lunchtime jaunts to secluded motus (islets), SCUBA diving, and crystal-clear lagoons. Bora Bora and Moorea were my greatest sources of artistic inspiration.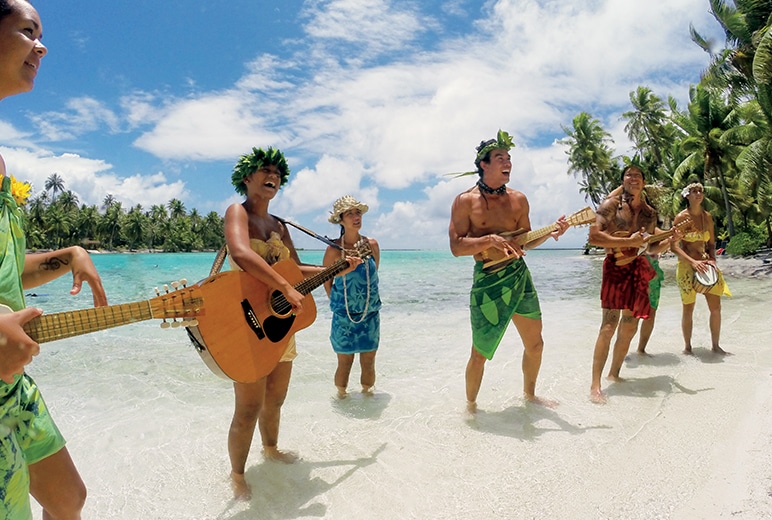 Les Gauguines and Les Gauguins share a warm welcome to the line's private islet, Motu Mahana.
Taha'a/Motu Mahana
Between Bora Bora and Moorea, we slipped off to the line's own private island, Motu Mahana, where we were greeted by Les Gauguines and Les Gauguins, an exuberant, talented group of local dancers, musicians, and guides who live aboard The Gauguin to share their mastery of all things Polynesian.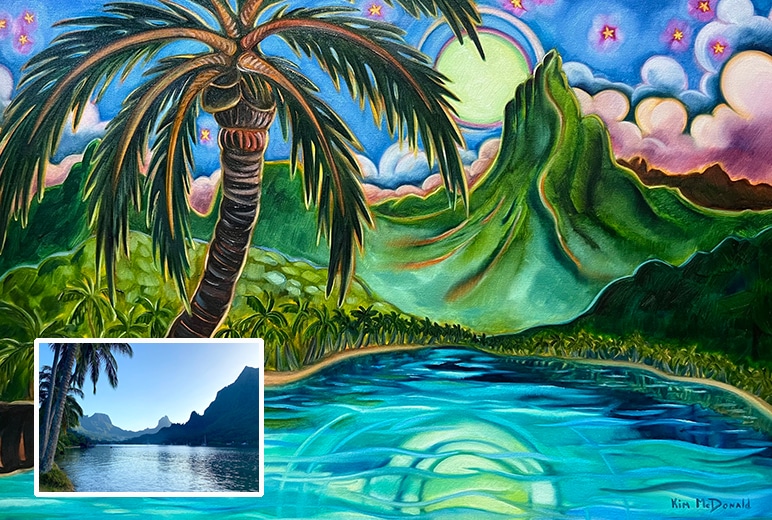 "Moonrise Over Moorea" by Kim McDonald @kimmcdonaldart; (inset) the view that inspired the painting.
Moorea
Moorea is my all-time favorite island—my spirit animal! Besides the spectacular scenery, we were able to get up close and personal with bottlenose and spinner dolphins, sharks, rays, and constellations of bright colorful tropical reef fish. But my two most memorable experiences included some local culture and pearls (of course!):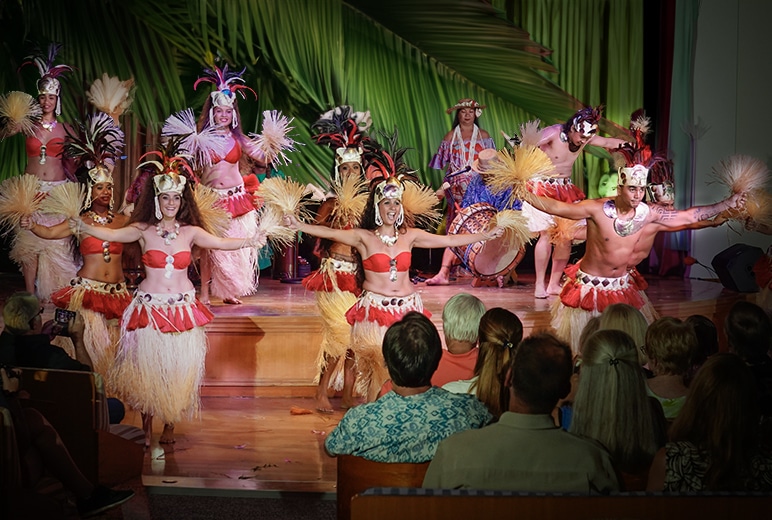 O Tahiti E is one of the oldest dance troupes in French Polynesia.
O Tahiti E
These Moorean natives are described as "the fabulous professional folkloric dance group of Tahiti.'' That description does not do this Broadway–worthy extravaganza justice. It is soulful and spiritual, and perhaps I imagined it, but I could feel the bone-deep spirit of the islands in the rhythm and joy of this group.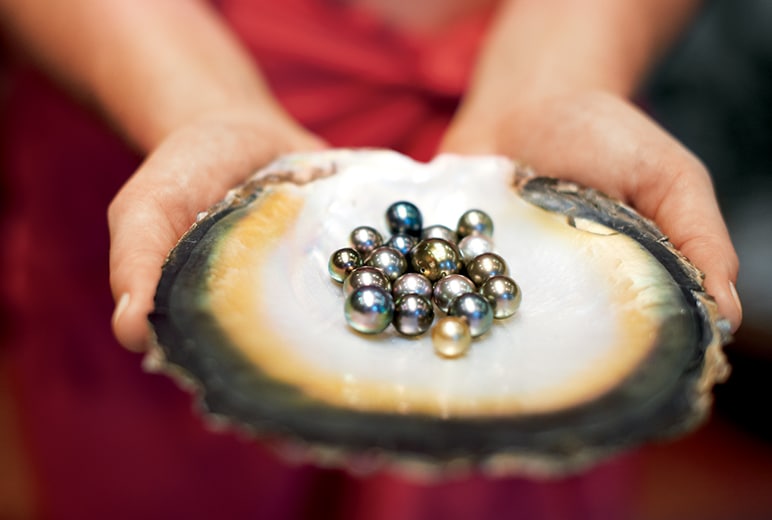 Tahitian pearls are the only pearls that have a full color spectrum; black-tip pearl oysters have a rainbow-like mantle that exhibits all natural colors.
Pearls!
OK, full disclosure: I am obsessed with pearls. And in my many years of admiring, bargaining for, and collecting pearls, I have discovered two favorites. One is the gallery aboard The Gauguin, and the other is a fabulous family-owned shop on Moorea.
Papeete
I've been to French Polynesia over a dozen times and I spent a couple of months in Papeete over 25 years ago. I know this town pretty well and have found many hidden treasures here. As nearly every itinerary aboard The Gauguin travels from Papeete roundtrip, here I am pleased to answer a few questions about some of my favorite places: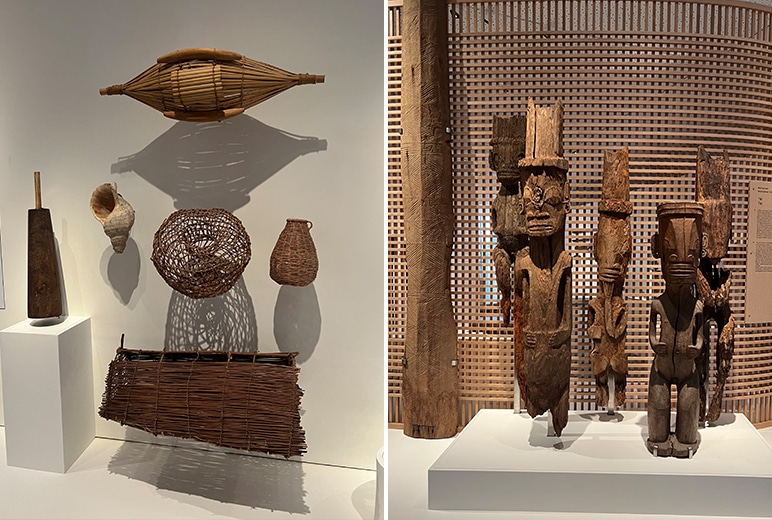 Historical carvings and artifacts at the Tahiti and Island's Museum; Papeete.
Are there any museums in Papeete?
Yes! I visited the new museum just outside of Papeete, called Tahiti and Island's Museum. This is a must-see, well worth experiencing. Very Polynesian modern. It's a small museum, but it has remarkable historical findings. I would highly suggest spending two hours so you can take the fascinating headset-guided tour. The museum features tikis (sculpted statues of wood or stone), cultural iconography, early Polynesian canoes, different formats of paddles, and a comprehensive history of the origins of the Polynesian peoples.
What is the best bookstore in downtown Papeete?
Odyssey Tahiti Bookstore: directly across from Notre Dame Cathedral is my favorite bookstore in the whole world—it has a wealth of information. The Odyssey never fails to provide me with an incredible source of inspiration for my current works, with picturesque Polynesian coffee table books, as well as historical and vintage photography books of French Polynesia. It also has souvenirs and a handsome selection of art supplies.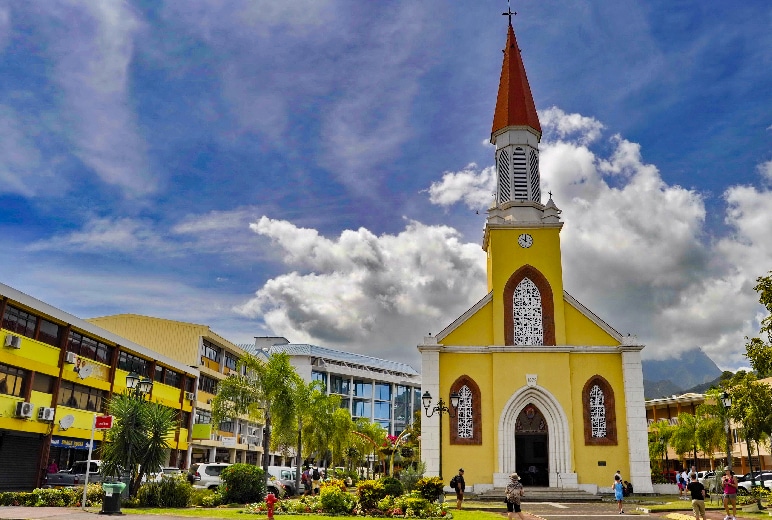 The Notre Dame Cathedral, Papeete.
What is the name of the iconic yellow church in downtown Papeete?
Paris isn't the only capital that boasts a Notre Dame Cathedral. It is also the name of one of Papeete's most popular landmarks. The interior of this charming cathedral features both European and Polynesian design elements.
Local artisan handicrafts and fresh fruits at Le Marchê de Papeete.
What is the name of the market in downtown Papeete?
One block from Notre Dame church in the heart of the city is a fabulous local market called Le Marchê de Papeete that was founded more than 170 years ago. This extensive marketplace is full of fresh fruits, fresh seafood and meats, as well as fresh tropical flowers, souvenirs, and Polynesian handcrafted goods.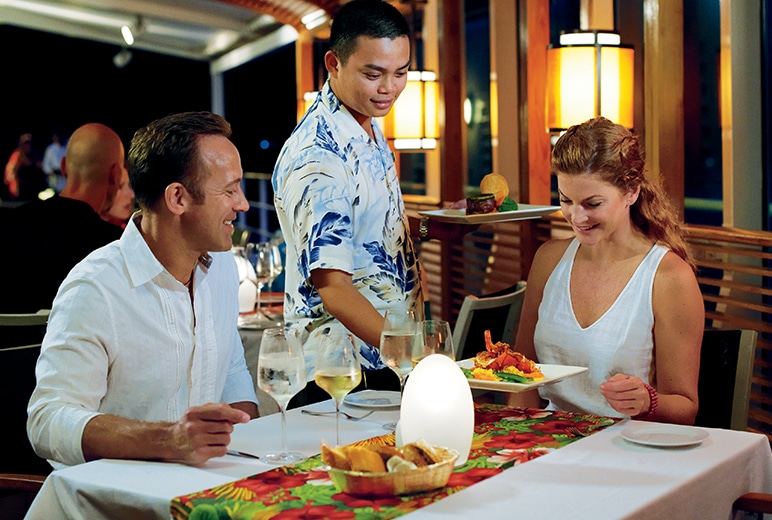 Not surprisingly, dining aboard The Gauguin draws upon the bounty of the sea with the added delicacies of French-inspired dishes and international favorites.
What is the most memorable aspect of Paul Gauguin Cruises?
Now, let's get back to the ship itself. Whether dining, exploring, or just relaxing on board, the defining essence of an experience, the thing that makes it memorable, is the grace and manners of the staff.
A knowledgeable, heartfelt, genuine, delightful waiter elevates the whole experience to something transcendent: one-of-a-kind and memorable. The waitstaff on The Gauguin are almost too good to be true—by the second day, they know where you like to sit, whether you take cream in your coffee, your favorite wine choice with fish—it's indescribable. I have been to many 5-star hotels, 3-star restaurants, etc., and none come close. One of the things I will remember the most, among the islands, activities, and perfect sunsets, is how exceptional the staff (including Captain Renè Paul Boucher and Cruise Director Gaëlle Pichon) was. Simply brilliant.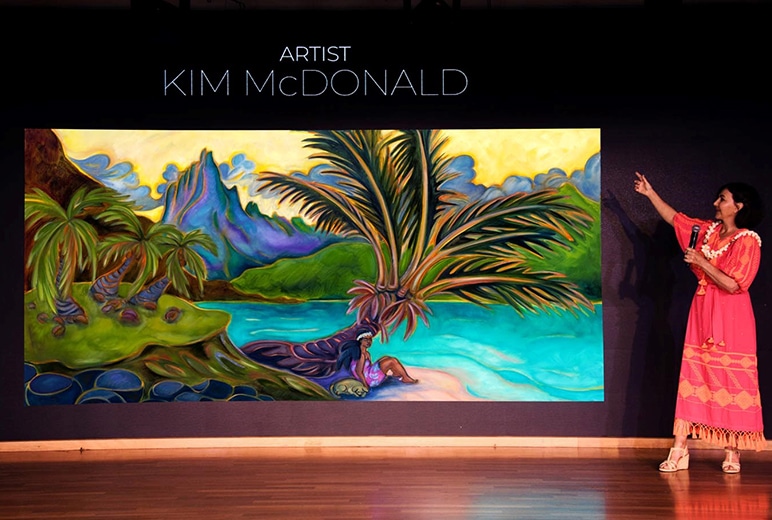 As a visiting guest speaker, I shared my passion for painting and how the works of Paul Gauguin inspired my own.
What else separates Paul Gauguin Cruises from other cruise lines?
Unless you are on Harvard Alumni Cruise Lines (which doesn't exist by the way!), I doubt that you could match the caliber of presentations given by guest lecturers aboard The Gauguin. While the roster of visiting speakers changes from voyage to voyage, my particular cruise featured Pascal Erhel, a renowned cultural anthropologist who makes the origin story of the South Pacific come to life with encyclopedic knowledge and enthusiasm. Also on board was Estelle Davies, a world-traveled and world-renowned marine biologist with a daunting resume—I won't even try to list her degrees. She gave a mesmerizing presentation on the formation of the islands, the aquatic ecosystem, phylum Chondrichthyes (sharks and rays), and her work with Jacques Cousteau, among other topics. For my presentation, I dove into my 30 years as a successful post-Impressionist oil painter, my love for the islands, my inspirations (Henri Matisse, Georgia O'Keefe, Paul Gaugin, Vincent Van Gogh) and the process of post-Impressionism: depicting not what you see, but what you feel.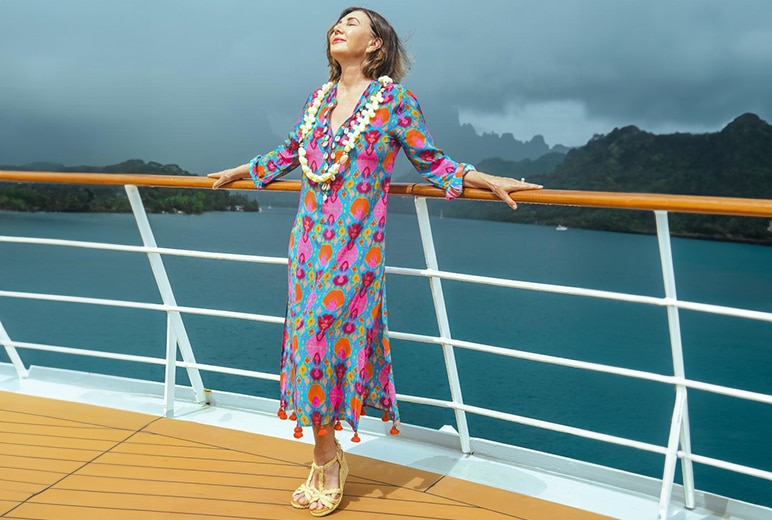 Suggested shipboard attire is easy and elegant with a dash of tropical.
What do I wear to dinner on Paul Gauguin Cruises?
I love to dress up for dinner—who doesn't? The ship's three unique restaurants provide the perfect setting for showing off your fun tropical elegant attire. The dress code says, "Country club casual, no jeans or shorts;" but remember, this is a French cruise line, and the French know how to dress. So take this as a perfect opportunity to wear those colorful, exotic dresses worthy of the movie Moana—after all, we're on a magical voyage through the most dream-like islands in the world. Why not dress for it?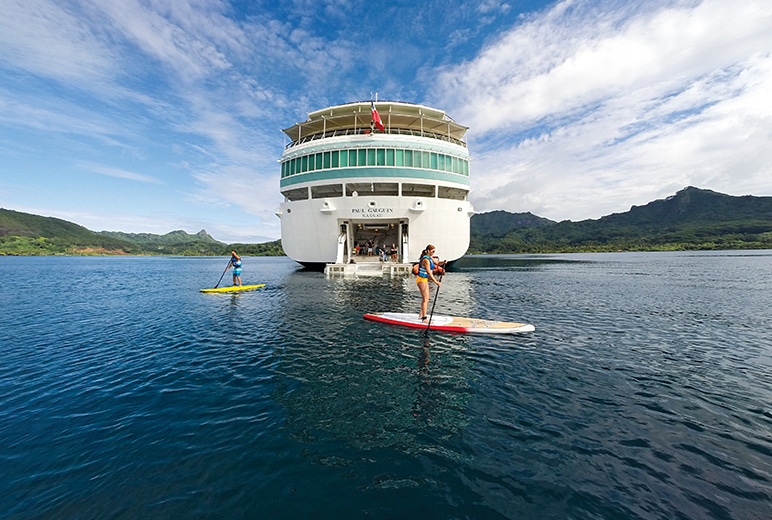 The Gauguin's marina opens to the sea, allowing for stand-up paddleboarding and kayaking directly from the ship.
What are some of the best activities offered by Paul Gauguin Cruises?
You should definitely check out the Paul Gauguin Cruises website—my head is still spinning from the banquet of activities we were offered every day (and night), but I enjoyed all of these immensely:
Lei-making • Piano Bar • Fitness Center • Algotherm Spa • Disco (La Palette) • Island Jaunts • SCUBA Diving • Snorkeling • Sharks & Stingrays Excursion • Stand-Up Paddling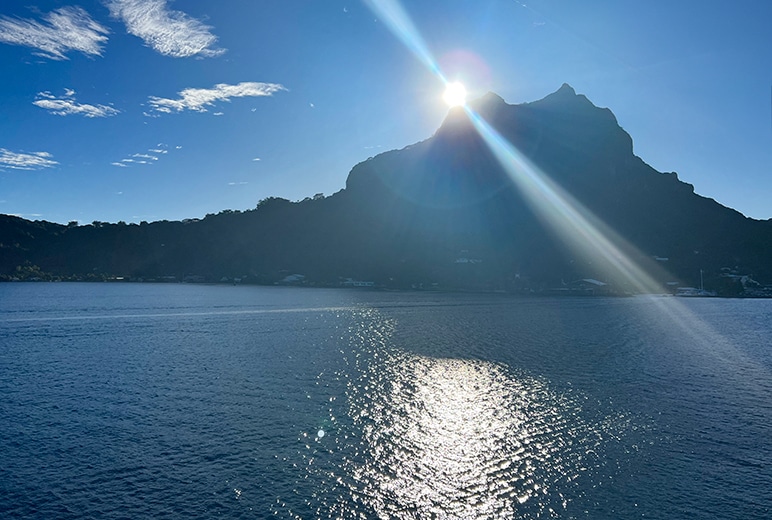 Picturesque and enchanting views of paradise are enjoyed every day aboard the beloved m/s Paul Gauguin.
How would you sum up a vacation with Paul Gauguin Cruises?
You know how in some movies the person is looking at a painting and then magically steps into it, and the whole world depicted by the painting unfolds in real life? I felt that way on the m/s Paul Gauguin—it was a portal, a magic carpet to the world that Gauguin depicted (complete with friendly guides and wave-runners!). I can only hope that you get to share this experience!
Join Kim next year on our October 9, 2024 Society Island & Tuamotus voyage and visit her website to learn more about her artwork and philanthropic efforts.
–Mauruuru!!
–(Thank you!!)