Best Dive Sites in Tahiti
November 17, 2022
It's always a great day to breathe underwater.
~ A SCUBA diver's mantra
Eons in the making, the islands and atolls of French Polynesia were formed by volcanic hotspots; molten lava bursting upwards in a thermal plume through cracks in the Earth's surface. As the planet's crust slowly shifted, great seamounts emerged. Free-swimming coral larvae attached to submerged rocks and reefs formed. Erosion, massive waves, and cyclones battered the high islands and reefs, depositing debris in shallow lagoons. Motus rose. Volcanoes sank. Atolls were born.
Why, you must be asking, all the talk of plate tectonics and long-forgotten high school geology? Because it took millions of years for Mother Nature to create this South Pacific paradise – home to some of the world's most spectacular diving and snorkeling. Let's take a look at some of the top sites you might enjoy on a journey aboard the award-winning m/s Paul Gauguin.
With sparkling blue lagoons, crystal-clear waters, and magnificent coral reefs, Tahiti and her Islands, as French Polynesia is also known, are perfect for all manner of advanced or novice diving and snorkeling year-round. The waters here average a steady 82 degrees, making for a tempting invitation to jump in and discover an underwater world brimming with vibrant coral gardens and marine life, from Napoleon wrasse, butterfly fish, angelfish, octopus, and eels to sharks, rays, turtles, and more.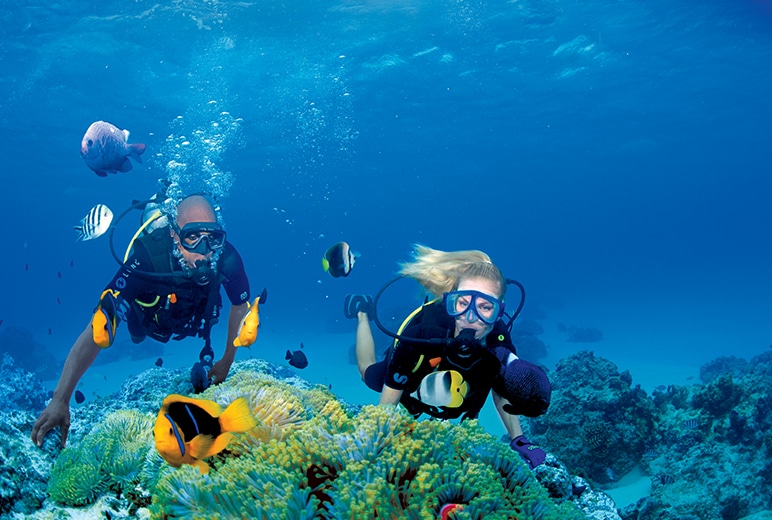 Some say that the best diving in French Polynesia is in the Tuamotu Archipelago, comprised of 78 islands, all of which are atolls. Fakarava is home to a UNESCO-listed Biosphere Reserve rich with marine life including underwater canyons, coral heads, and a high concentration of whitetip sharks, turtles, and more. The Tumakohua Pass is perhaps the most revered of Fakarava's dive sites were you can see bigeye and barred jacks, gray reef sharks, bluelined snapper, and spotted eagle rays.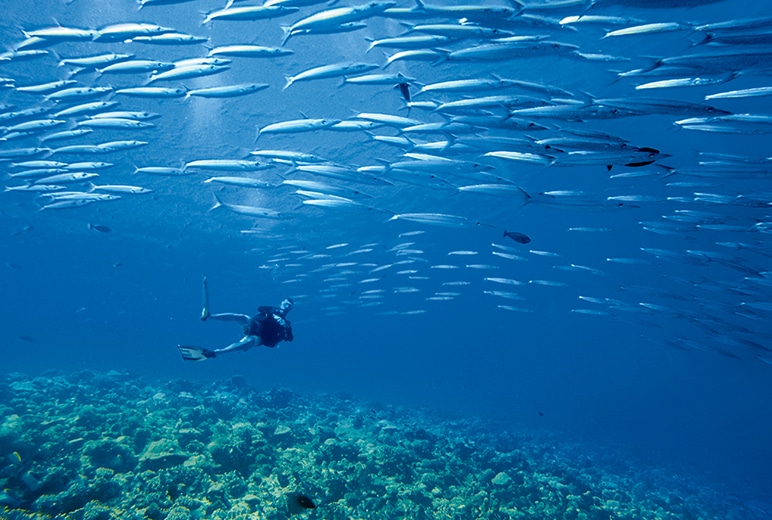 Also in the Tuamotus is Rangiroa, the world's largest atoll which is revered as the world's largest 'natural' aquarium. Fringing Motu Nui Nui is a reef teeming with colorful tropical fish and perfect for both beginner and advanced snorkelers. Rangiroa's Tiputa Pass is a legendary diving spot renowned for its dolphins, hammerhead sharks, and manta rays.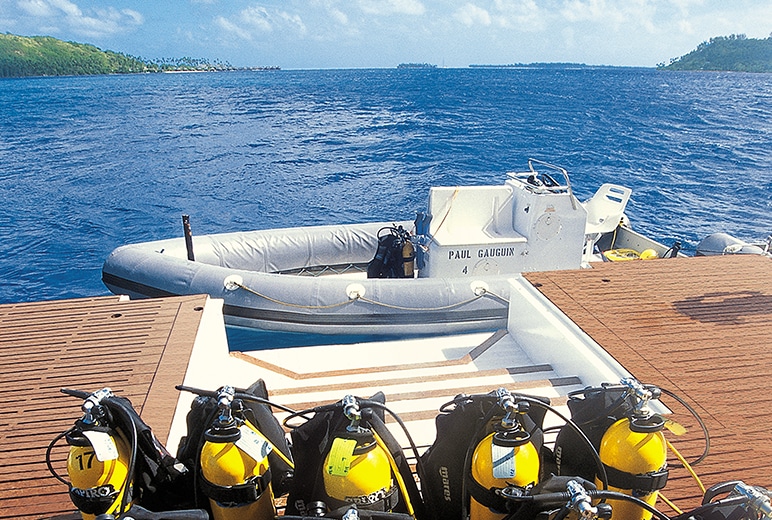 Bora Bora, French Polynesia's leading lady, is famous for her translucent lagoon dotted with motus and surrounded by one of the world's most pristine reefs boasting cauliflower, elkhorn, and finger corals. The shallow sheltered waters here are perfect for snorkeling and novice divers, while advanced divers may choose to venture out into the ocean on a drift dive through the reef's single pass. Bora Bora is also well regarded for diving with manta rays and sharks (there are at least 16 shark species found here!). Miri Miri is a popular spot, often called "Roses" owing to the myriad Montipora corals that look like a blanket of roses covering the reef. Tupitipiti is an intermediate site considered "legendary" by many, even if it is a bit of a commitment to get there.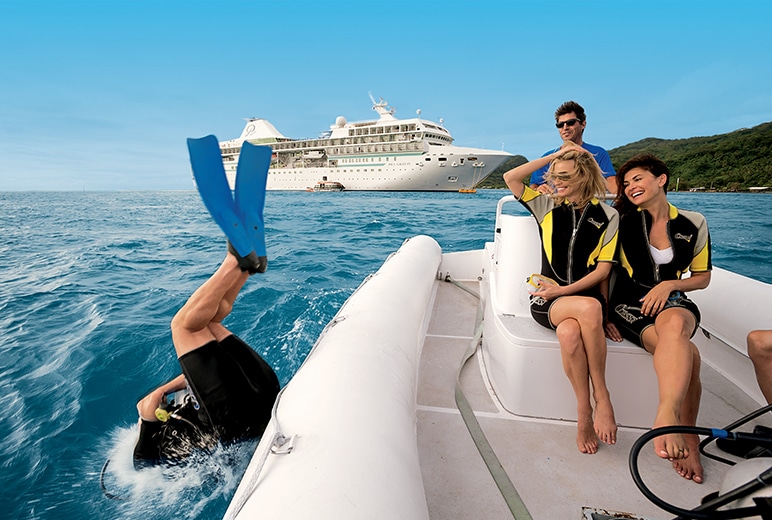 A dissected shield volcano with a caldera surrounded by peaks, Moorea's lagoon is great for both snorkeling and diving, with opportunities to swim near dolphins and stingrays in the wild. Its outer reef offers thrilling wall dives with sharks and large pelagic fauna; it's one of the best destinations to swim with whales, especially humpbacks. French Polynesia declared itself a Marine Mammal Sanctuary in 2002, making it a safe haven for whales and other big marine mammals.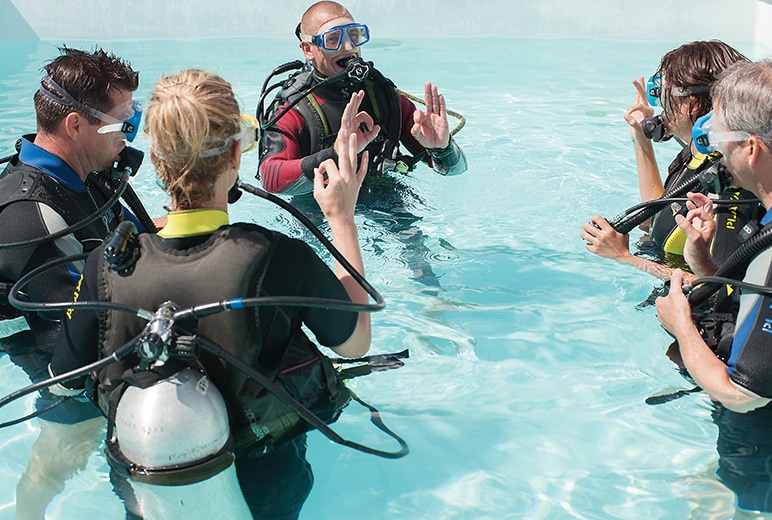 Covered in a thick jungle, Huahine is quiet and under the radar compared to some of her French Polynesian sister isles. The island offers excellent snorkeling among coral gardens in its lagoon. More experienced divers will want to consider the Avapehi Pass, bordered by a reef covered in corals and revealing unique surprises the further down you go – barracudas, jacks, leopard rays, whitetip sharks, and more.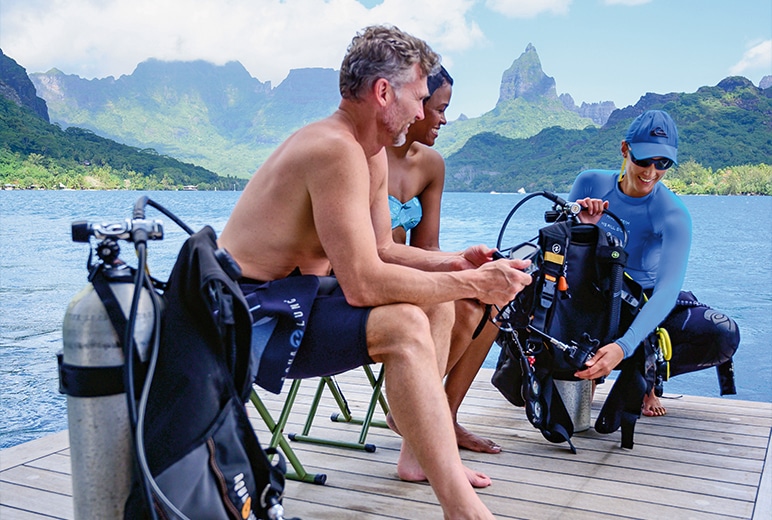 Nestled within the lagoon of Taha'a is Paul Gauguin Cruises' own private islet, Motu Mahana, offering great drift snorkeling over an incredible coral garden brimming with butterflyfish, lionfish, brightly colored wrasse, clownfish, and great giant clams.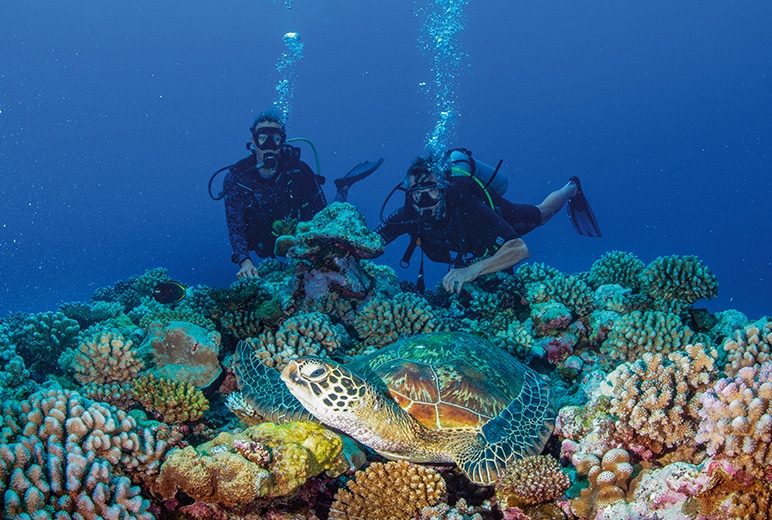 Off the beaten path and considered French Polynesia's "new" dive destination by more experienced divers is Hiva Oa in the Marquesas. The steep volcanic isles found here do not have lagoons or barrier reefs, but below the water line, advanced divers will thrill to see what's been described as a "manta ray highway" along with sharks, dolphins, and whales.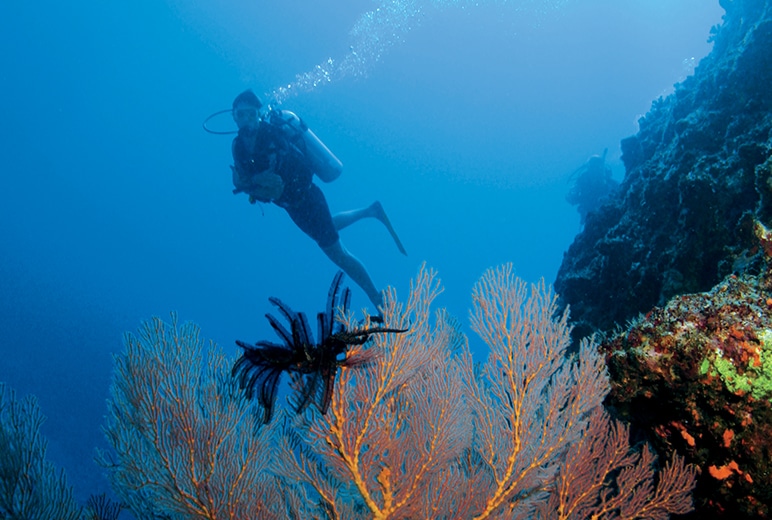 Guests traveling aboard The Gauguin can embark on optional SCUBA adventures directly from the ship's retractable watersports marina, or have our staff assist you in making arrangements for more specific dives. And for those who have been thinking about getting their PADI* certification, you can do that on board too!
Book your dream dive vacation now and save up to 30%.
We hope to see you under the sea sometime soon!
* PADI Certification is not available outside of French Polynesia. Diving certifications are subject to availability. Please contact reservations for details.