Botanicals & Food
Tahiti offers a wealth of exotic flora, natural products and delicious food. Enjoy refreshing coconut water while basking in the sun at your private beach experience on Motu Mahana. And if you get a little too much sun, consider treating your skin with, what else but coconut oil, or Monoi — a revered skin product native to Tahiti. Coconut shows up again in Tahiti's national dish!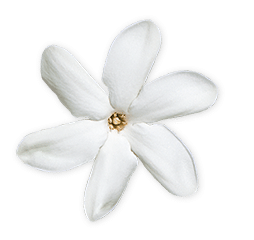 THE NATIONAL FLOWER OF TAHITI
Tiaré or Tahitian gardenia is a small, delicate, white flower that blooms year round on a bush with shiny, dark green leaves. Its delicate but heady scent is the fragrance ambassador of French Polynesia and is often worn behind the ear by Polynesians. Visitors are often greeted with the gift of a tiaré flower upon arrival. When presented with one, feel free to tuck it behind one of your ears accordingly:
TANE (men): usually choose a bud.
VAHINE (women): often prefer a flower that is fully open to adorn either her right or left ear. Right indicates that she is single, left indicates that her heart belongs to another.

Plumeria /
Frangipani

Ylang Ylang

Hibiscus

Passion Fruit

Heliconia
TAHITI'S NATURAL BOTANICAL
Depending on who you are talking to, a coconut might be called a fruit, a nut, or a seed! Tahitians extract coconut oil from copra, which is the dried kernel of the coconut. Delicious and healthy too cook with, coconut oil has a low melting point of 24°C/75°F and is in solid form in cooler environments.
MONÖI [mah-NOY] Oil is widely used by Tahitians as a natural botanical. It is made by infusing coconut oil with tiaré flowers, or sometimes with vanilla — to produce a luxuriously scented skin and hair moisturizer.
Of course, while in the islands, you'll have plenty of opportunity to hydrate with coconut water while basking in the sun — or celebrate the sunset with your coconut-cream or coconut-milk-based cocktail.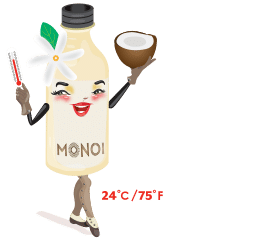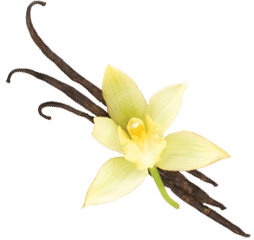 IT'S SO VANILLA
Tahitian vanilla is prized among chefs worldwide for its nuanced and unique flavors. Its floral fragrance and subtlety make it ideal for dishes in which vanilla is featured as the main flavor profile. Be sure to pick some up when you're in Polynesia! The onboard chef will be more than happy to tell you the many ways you can incorporate it into your culinary toolkit.
Poisson Cru
Tahiti's National Dish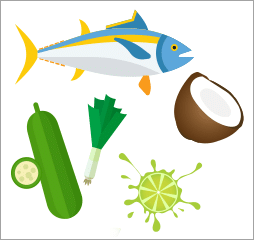 Soak fresh-caught ahi tuna and diced vegetables in coconut milk and marinate with lime juice: voila!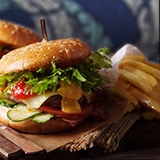 Les Roulottes!
Tahitians find their fast food, or "snack," at roulottes (food trucks) and snack bars dotted throughout the islands. Quick bites like burgers, pizza, Chinese dishes and sandwiches, as well as local fare like poisson cru, are available at reasonable prices.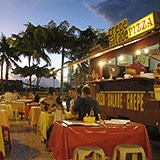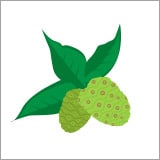 Noni Fruit
Offers immunity & vitality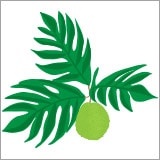 Breadfruit
A keystone in Polynesian cooking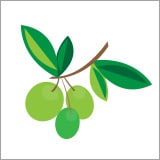 Tamanu Nut Oil
Healing skin treatment
EVERYONE'S FAVORITE NIGHT ABOARD
Though Paul Gauguin Cruises offers a voyage steeped in Polynesian culture, one night on board is specially designated as "Polynesian Night." Local Mamas and Papas come aboard to play music and weave heis, leis and umuhei (corsages) made from piles of fresh tropical flowers. The restaurants are adorned with celebratory decorations and the menus feature Polynesia's most revered dishes. Guests are encouraged to dress as the locals do — in pareos! It is often cited as a favorite event aboard The Gauguin.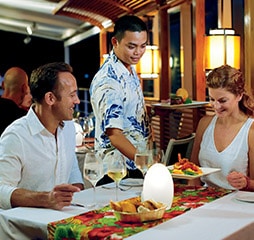 SO REFRESHING!
Whether you're looking for something healthy or something with a little kick, a trip to Tahiti on The Gauguin doesn't disappoint:

Hinano
Local Beer

Coconut Drinks
Motu Mahana

Morning Smoothie
Onboard, La Palette

Drink of the Day
Onboard, All Bars