Cruises visiting Espiritu Santo, Vanuatu (Vanuatu)
Consisting of 82 volcanic islands, the nation of Vanuatu lies in the South Pacific, about three-quarters of the way from Hawaii to Australia. Spanish for "the holy spirit," Espiritu Santo is the largest island in the Vanuatu archipelago. Here, you'll find miraculous scenery, from its palm-lined, white-sand beaches and spring-fed swimming holes to lush rainforests and lofty mountains, including Vanuatu's four highest peaks.
The character of this once-isolated island was dramatically changed forever during World War II, when it became an Allied military supply and support base. A lieutenant commander for the U.S. Navy named James A. Michener wrote Tales of the South Pacific based on his experiences while stationed here. The Pulitzer Prize-winning book was later turned into the musical South Pacific by Rodgers & Hammerstein. While here, perhaps you'll venture to the two protected areas that have been established to preserve local biodiversity, which includes the Santo Mountain Starling, a bird that is exclusive to the island. Coral reefs and shipwrecks — including the SS President Coolidge, renowned as one of the most accessible shipwrecks in the world — make it a popular destination for divers. You can also enjoy exceptional swimming and snorkeling. Or simply relax on the beach.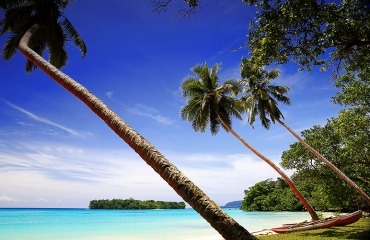 Duration: 16 Nights
Next Departure Date: 4/15/2025
More information
//= __('The price displayed does not take into account the actual availability of cabins') ?>