Cruises visiting Taha'a, Society Islands (Motu Mahana) (French Polynesia)
Points Of Interest
Motu Mahana
Motu Mahana is Paul Gauguin Cruises' own private islet, where nearly every activity is already included in your all-inclusive fare. Beach chairs, lunch tables, and umbrellas are all provided, as are full and floating bars and a sumptuous barbecue feast. Among the activities in which you can indulge are:
Watersports: Kayaking, Snorkeling, and Swimming
Beach Volleyball
Pareo Tying and Handicraft Demonstrations
Spa: Overwater Massage (by appointment, additional fee, weather permitting)
We ask that you do not walk outside the motu property, swim or take watersports equipment to the adjacent islets or reefs.
Taha'a
Motu Mahana is a motu off the coast of Taha'a. If you wish to explore the main island, Paul Gauguin Cruises offers a variety of Taha'a shore excursions, including:
Snorkeling
SCUBA Diving
Catamaran Sailing
Island Exploration
Cultural Tour
Local Information
Population: Motu Mahana: 0 /Taha'a: 5,000
Language: English, Tahitian, French
Currency: XPF
Scheduled Docking Location: Anchored; tender to motu. The ONLY tender to the island of Taha'a will be for the "Exploration of Taha'a", "Taha'a Cultural", "Catamaran" and "Waverunner" tours.(tenders run to and from Motu Mahana on a schedule throughout the day)
Shopping: Local vendors are set up on the motu upon the ship's arrival.
Banks / ATMs: There are no banks or ATMs on the motu.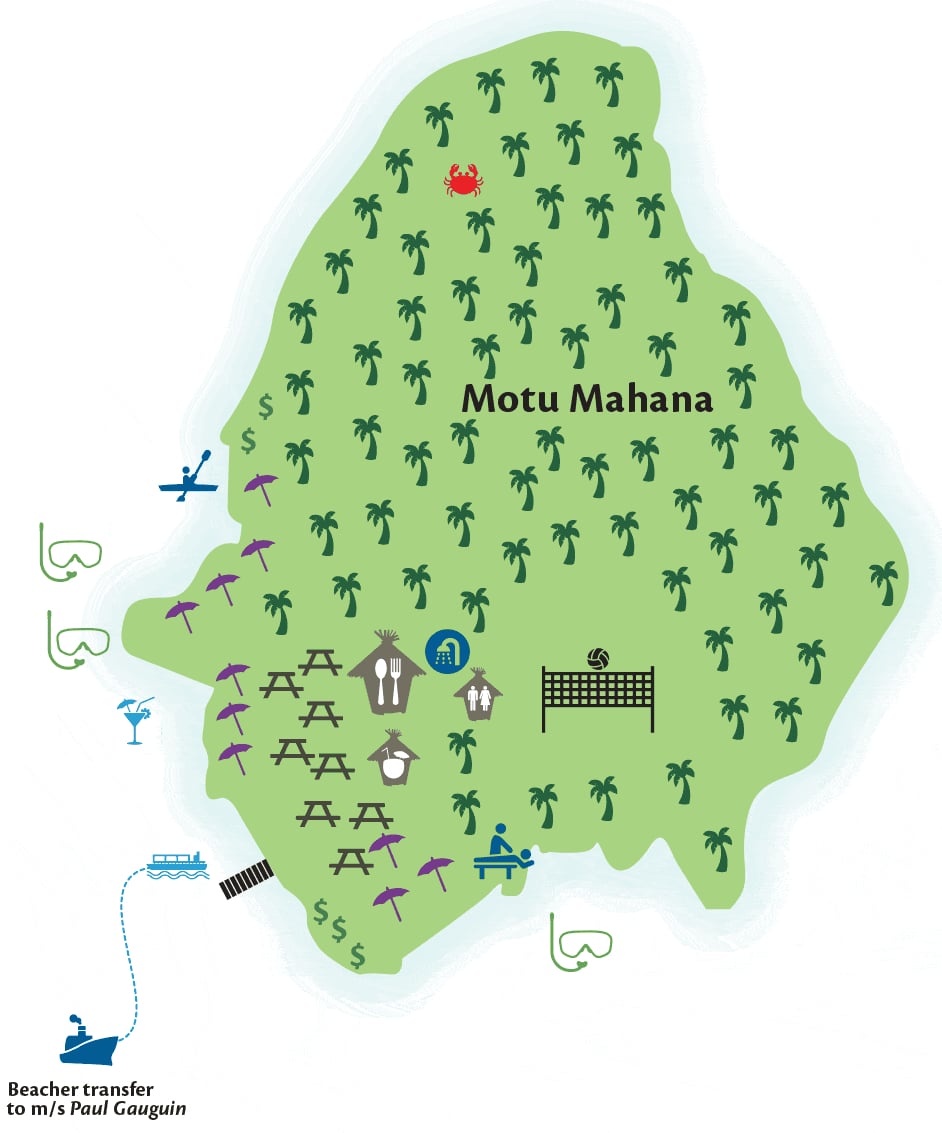 Download Port Flyer
Duration: 14 Nights
Next Departure Date: 12/16/2023
More information and Available dates
Duration: 14 Nights
Next Departure Date: 12/30/2023
More information and Available dates
Duration: 11 Nights
Next Departure Date: 1/13/2024
More information and Available dates
Duration: 10 Nights
Next Departure Date: 1/24/2024
More information and Available dates
Duration: 14 Nights
Next Departure Date: 2/3/2024
More information and Available dates
Duration: 7 Nights
Next Departure Date: 2/17/2024
More information and Available dates
Duration: 11 Nights
Next Departure Date: 2/24/2024
More information and Available dates
Duration: 10 Nights
Next Departure Date: 3/6/2024
More information and Available dates
Duration: 14 Nights
Next Departure Date: 3/16/2024
More information and Available dates
Duration: 7 Nights
Next Departure Date: 4/6/2024
More information and Available dates
Duration: 11 Nights
Next Departure Date: 4/13/2024
More information and Available dates