August 19, 2022
Tasty & Tempting: That's Tahiti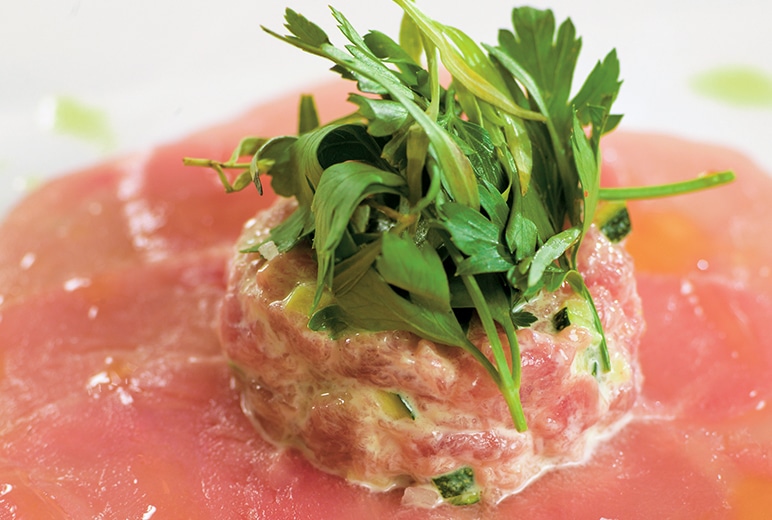 The first thing that comes to mind when you think of Tahiti might not be poisson cru, but if you're a foodie it should be! Just imagine sitting beneath that swaying palm on that lush volcanic isle somewhere deep in the South Pacific (that's the image that likely comes to mind) … savoring the national dish of Tahiti as if you were a local. Poisson cru, French for "raw fish," is a ceviche- or poke-like delicacy of fresh tuna marinated in lime juice and coconut milk with the added crunch of locally grown tomatoes, onions, and cucumbers. In Tahitian it's called ei'a ota (ee-ah oh-tah), but we just call it delicious.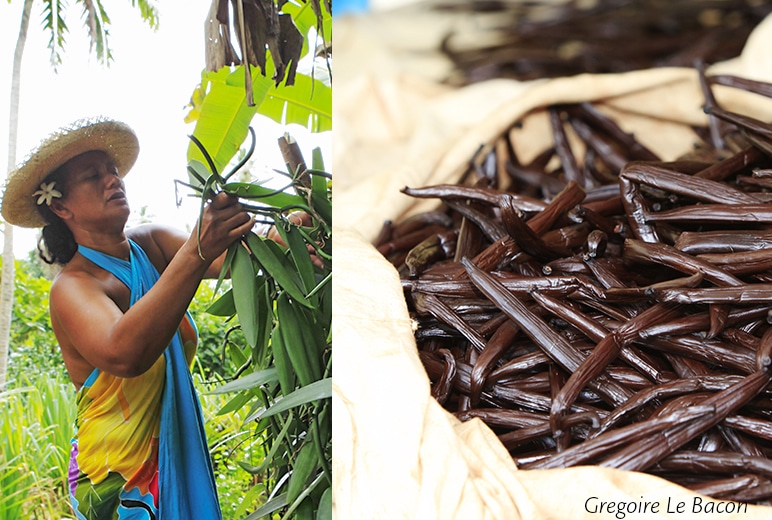 Tahiti is a foodie's paradise. Its cuisine fuses Polynesian culinary traditions with a dash of Chinese flavor and a decidedly French influence. And while the French residents here still cherish their famed sauces – think red wine sauce atop a steak, vanilla sauce drizzled on mahi mahi, or orange sauce with canard – the ma'a Tahiti, or local fare, is revered by all. From tried-and-true favorites to daring temptations, here we are pleased to share a gastronomic primer on the food and drink of Tahiti.
First, we should tell you about the fundamentals of Tahitian cuisine. Fresh fish and shellfish are a given, ranging from yellowfin tuna, mahimahi, bonito, and parrotfish to shrimp, lobster, and clams. Also expected are myriad fresh vegetables such as uru (or breadfruit), the orange plantain, root varietals including taro (often called the potato of the tropics), and ufi (yams of all kinds). Exotic fruits include papaya, mango, pineapple, and coconut (naturally!), and spices range from ginger and tamarind to lime and the legendary Tahitian vanilla.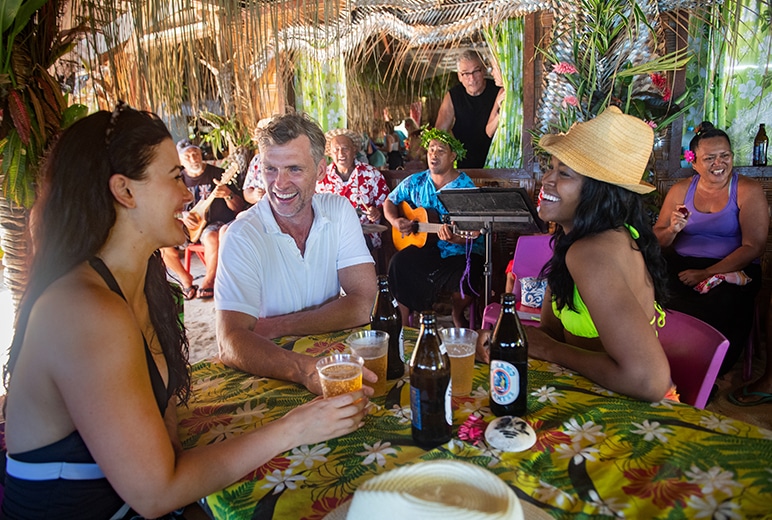 Like many cultures, the Sunday meal is important throughout all of Polynesia, enjoyed with family and friends and typically prepared underground in an earthen oven known as a hima'a. Dating back to ancient times, the process involves digging a hole and layering it with dry wood and volcanic stones. Meats (typically imported from New Zealand), fish, and veggies are wrapped in banana leaves, placed on the stones, and then covered with more hot stones, sand, and earth. It takes a few hours to prepare and is often enjoyed at celebrations called amara'a, a banquet with lots of singing and dancing.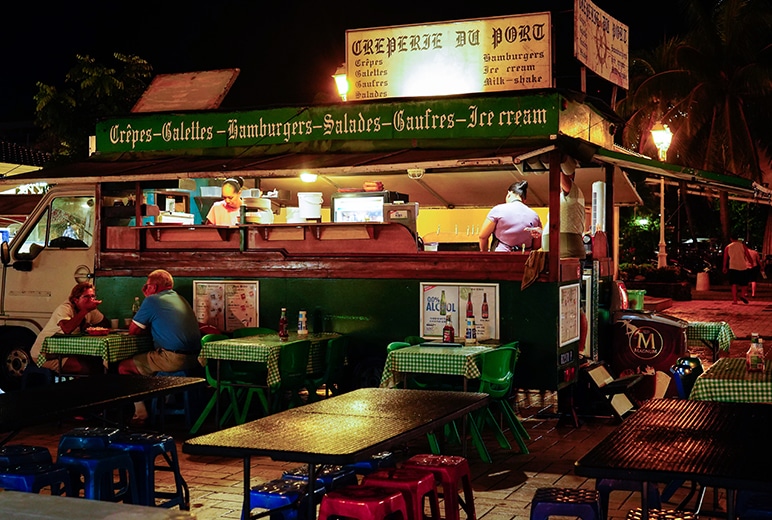 Locals here are also fond of their snacks, the most popular being casse-croûte, a sandwich made from a crusty French baguette and ham, tuna, or roti (roast pork). In Papeete especially, you'll also see lots of roulettes – Tahiti's version of a food truck – serving shish kebabs, Asian fare, the catch of the day, steaks, pommes frites, poisson cru, and more. The portions are huge, and the flavors are deliciously fresh.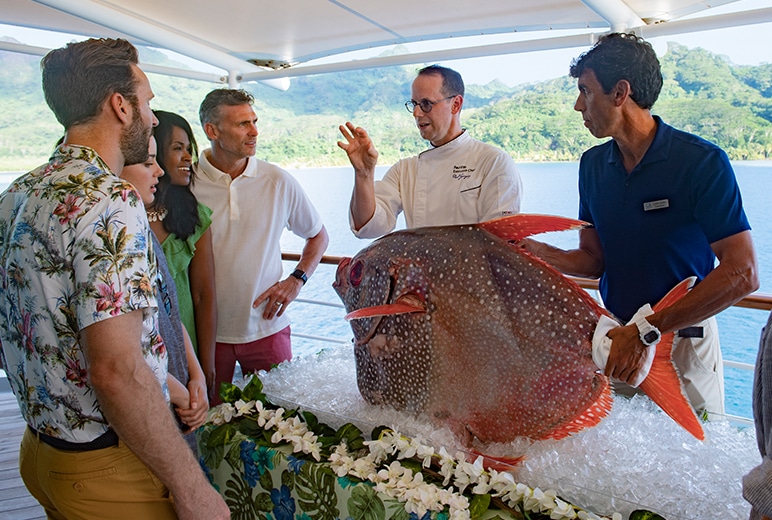 Other Tahitian specialties include chevrettes, freshwater shrimp with curry; fafa, spinach-like taro leaves served with suckling pig; and pouletfafa, a local version of Hawaii's chicken luau. The truly daring foodie might try fafaru – tuna or parrotfish marinated in fermented seawater and crushed shrimp heads, very tender on the palate, but very pungent too!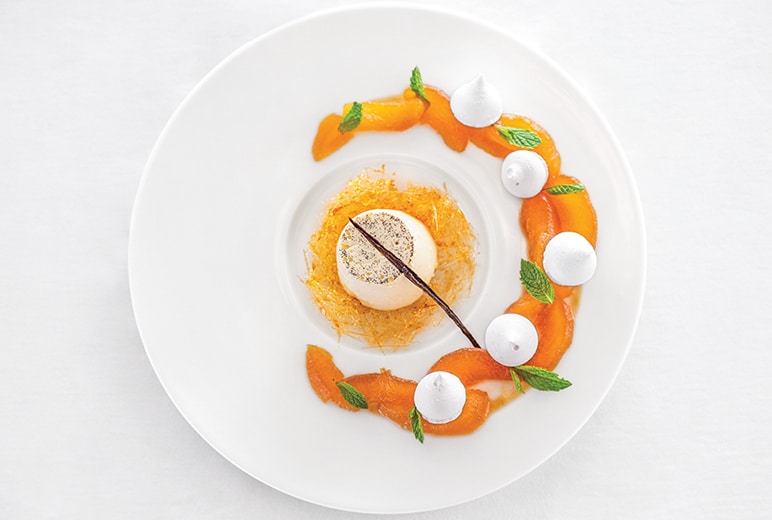 On the sweeter side, a favorite dessert is po'e, made with bananas and taro, sweetened with vanilla and served with coconut milk and papaya. Kato biscuits are popular with coffee, and firi firi – or Tahitian donuts – is fried dough infused with coconut milk.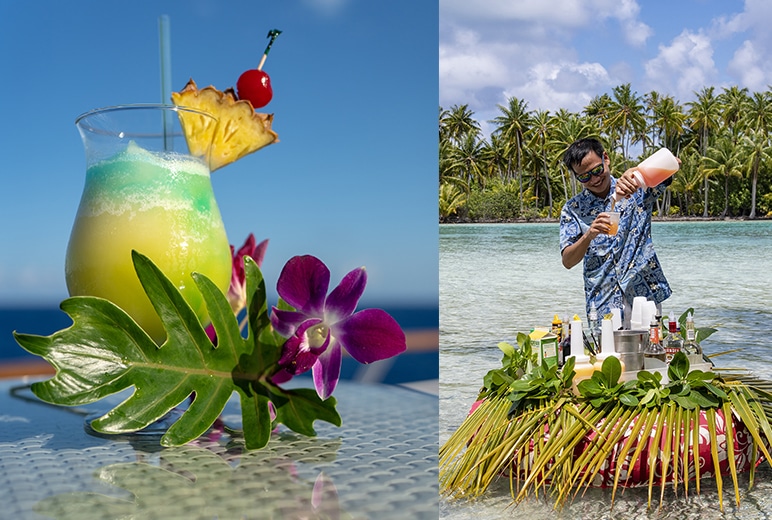 Empowered with all this culinary insight, you might be wondering, "But what will I drink?" Enter the Tahiti Drink. Yes, that is its name, and this refreshing aperitif of pineapple, passion fruit, and orange juice mixed with vanilla and rum has been distilled on the island of Moorea since 1984. You might also want to try some Vin de Tahiti at the Dominique Auroy Winery on Rangiroa – leave it to the French to establish a vineyard on an atoll!
But the best way to cap off a day of sunshine amidst the crystalline waters of Tahiti and the Society Islands is with a nice cold Hinano lager, the traditional beer of Tahiti, named after a white flower unique to the South Pacific.
Tama'a maita'i! (Bon appétit!)