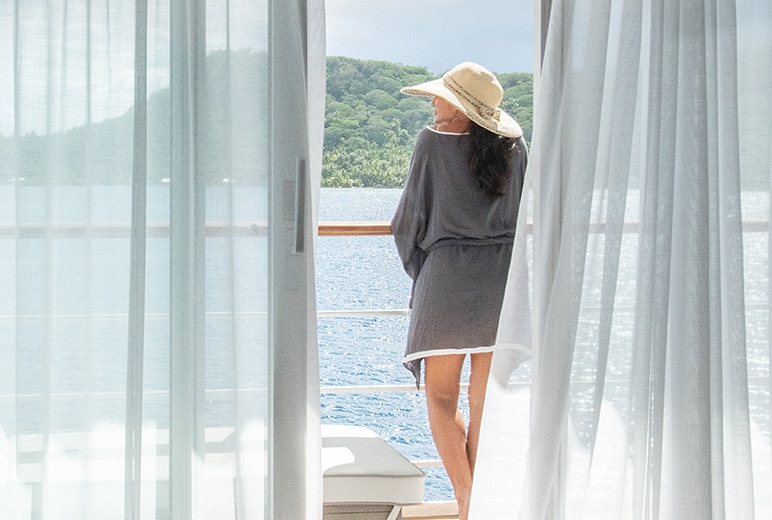 Zero Single Supplement
Traveling by yourself is life-changing. For those who already know this, you won't want to miss this limited-time offer: we are waiving the single supplement on select sailings. Zero Single Supplement is just one more reason to grab your passport and celebrate your freedom to wander the world. And for those who've yet to embark on solo travel, there's no better place to begin than aboard the m/s Paul Gauguin in the warm embrace of Tahiti and her people. Welcoming just 330 guests with her newly renovated décor and relaxed, all-inclusive luxury vibe, The Gauguin is the perfect choice for those looking to explore paradise.
Enjoy reduced rate fares when you book one of these select 2023 voyages of The Gauguin. Reserve today!
Tahiti & the Society Islands- 7-night
May 6, 2023 | May 13, 2023 | June 10, 2023 | June 17, 2023
June 24, 2023 | July 22, 2023 | August 26, 2023 | September 2, 2023
October 14, 2023 | October 21, 2023
Cook Islands & Society Islands- 11-night
April 15, 2023 | May 20, 2023
Marquesas, Tuamotus & Society Islands- 14-night
July 29, 2023 | August 12, 2023 | December 16, 2023
The Gauguin is a small, luxury vessel you'll want to book soon to ensure your choice of staterooms and take advantage of this special opportunity to explore Tahiti and her islands!
Terms and Conditions: Select sailings only. New bookings only. All fares are in US dollars and per person. Rates are subject to availability and may change without prior notice. Port, security, and handling charges are additional. 0% Single Supplement applies to CS, E, and F cabins only. Additional terms and conditions may apply. Call for details. Ship's registry: Wallis & Futuna