Sports & Activity
The sunshine, blues skies, and salty sea air of French Polynesia make le sporting lifestyle good for the body and soul. If you spend your vacation leisure time exploring the islands' volcanic mountains and surrounding tropical sea, you'll soon be transformed into a natural athlete. Bike, hike, snorkel, swim, and then just take a nap on the beach. When you return home, you'll be fit, relaxed, and armed with tales of off-the-grid adventures to tell!
Snorkeling — Exploring The Lagoons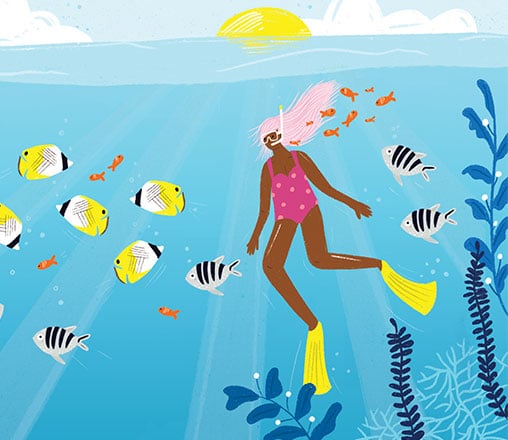 Schools of iridescent angelfish dart synchronistically between coral reefs. Clam shells yawn then snap their jaws shut to catch breakfast. Stingrays undulate on an underwater current, curious to check out any new visitor in their area. The Cook, Society, and Tuamotus Islands come alive in a whole new way when you peer through the lens of a mask.
If this sounds fun to you, make sure you pack your snorkel gear for your sojourn to the South Seas. You'll want to keep it at-the-ready for your day excursions to the islands. Our private motu on Taha'a and our private beach in Bora Bora offer the perfect opportunity for beginners. You can float in calm, shallow waters, while watching of tropical fish swim next to the beach. A myriad of snorkeling opportunities are available throughout your cruise. More experienced snorkelers will thrill at the Coral Garden Drift excursion in Taha'a or the Fakarava Pinnacle Snorkeling tour in a UNESCO Biosphere Reserve. There are snorkeling tours to join at nearly every island stop.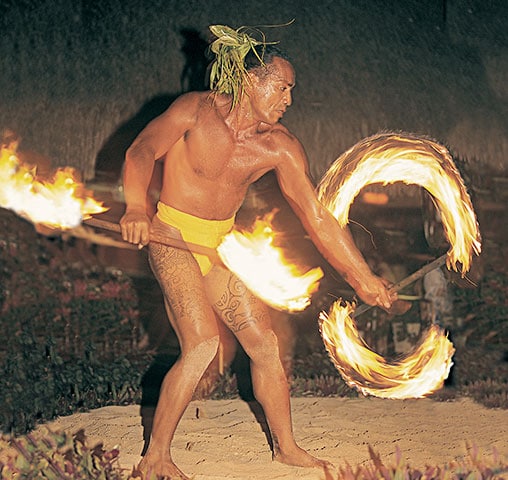 THE HEIVA
If you want to experience true Polynesian culture, excitement will build with every incendiary flick of the hips that send grass skirts flying. There is nothing more authentic to the Islands than the festival of the Heiva. It's a big deal. Every July, thousands of singers, dancers, and athletes descend on the island of Tahiti to compete in a fierce inter-island competition for best-in-class status in their field. There's no better place to see the beauty of Polynesia as it is expressed through the art, dance, music, and sports of the sixty-five inhabited islands of Oceania.
TRADITIONAL SPORTS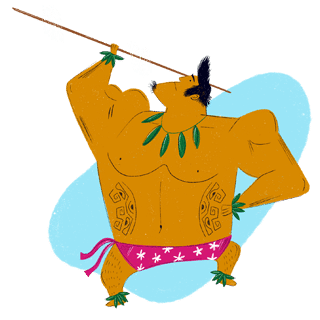 Javelin Throwing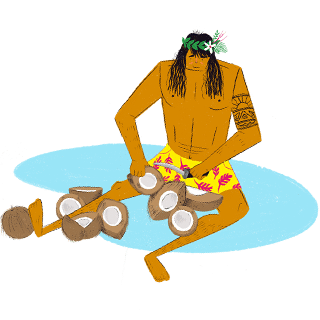 Copra
Tree Climbing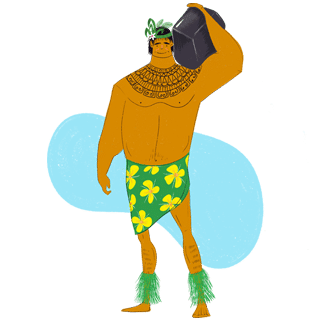 Stone Lifting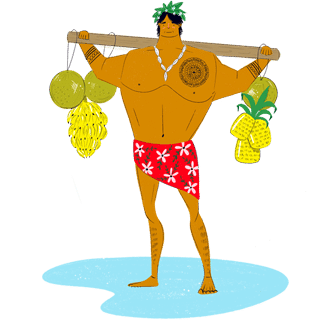 Fruit Carrying
The largest competition within the Heiva celebrates traditional sports. Modern day Polynesian gods and godesses in Maori dress compete in javelin throwing, copra cleaning, tree climbing, stone lifting, and fruit carrying competitions. You'll go back in time as you watch machete wielding supermen rip apart and process coconuts, athletes race with tree-size racks of bananas on their shoulders, and strongmen and women heft multi-ton rocks for distance. They cover all the basic skills one needed as a tribal warrior of days gone by.
SURF'S UP
The best time to hang ten in Tahiti is in the winter (May-October). It's when the wind currents generate the most favorable waves. If the world of surfing is something you're fascinated with, then Teahupo'o, a village on the island of Tahiti Iti, is a place you'll want to visit. At mile marker zero ("the end of the road") it is legendary for it's surf break and plays host to a share of famous surfing competitions. Dynamic waves draw young surfers from around the world to these islands and you'll see signs of it on Tahiti, as well as on Moorea and Rangiroa.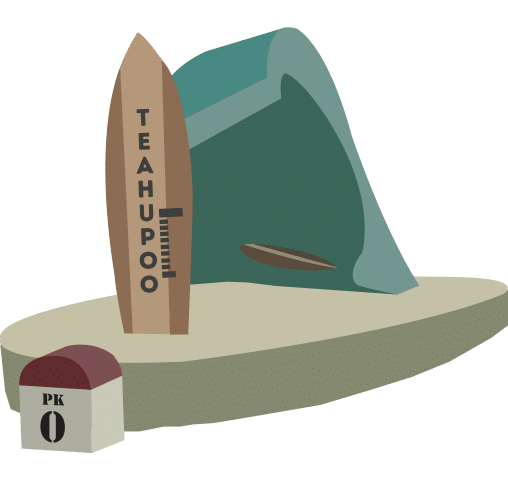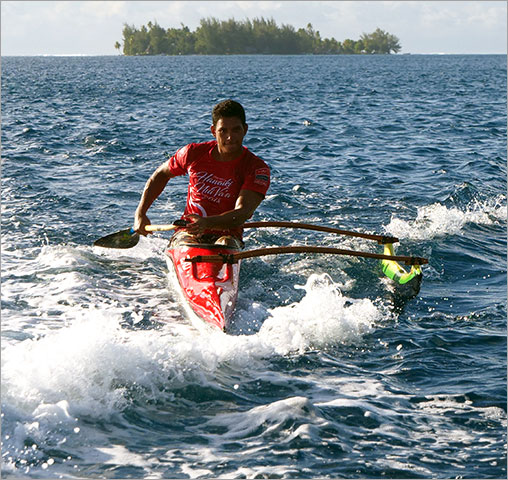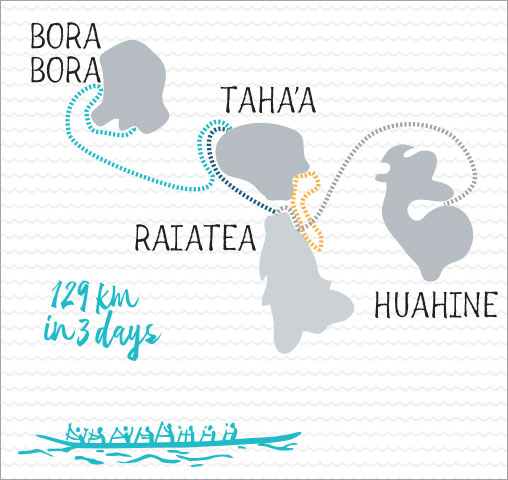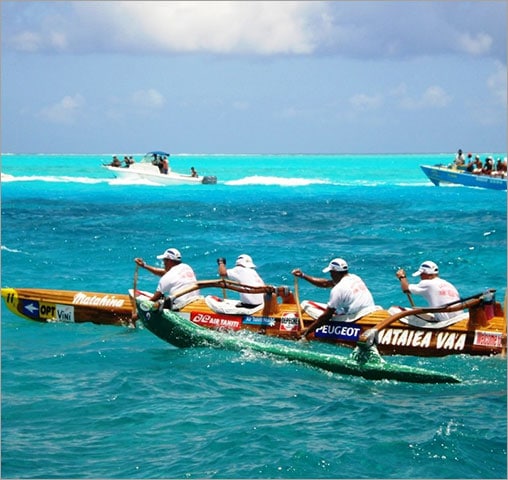 THE GREAT RACE — Hawaiki Nui Va'a
During the great migration, the warrior-explorers who traversed the vast waters of ancient Polynesia used one key piece of equipment, the va'a. Light, flexible, and strong, these outrigger canoes easily sailed over the waves, and carried settlers to their next remote island destination. Considered a national sport today, a major outrigger canoe race called Hawaiki Nui Va'a takes place every August. The 129 km three day competition leaves the Huahine for Raiatea, then on to Taha'a, and finishes in Bora Bora. You'll likely see islanders in training as they negotiate their va'a in the wake of the ship's tender as you transit between The Gauguin in many ports.
SCUBA: A Deep Dive Below Sea Level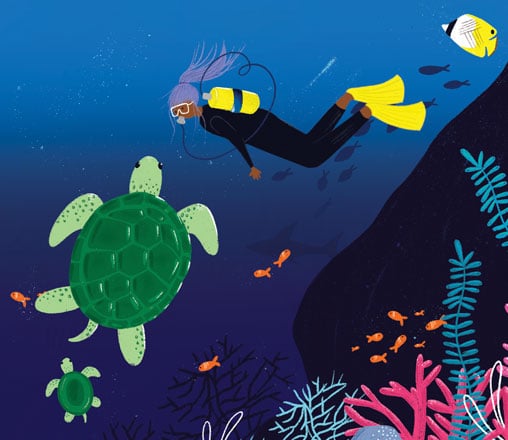 The cerulean South Seas offer up some of the most exquisite scuba diving in the world. Each island grouping offers its own diverse underwater experience. Encounter plenty of vibrant tropical fish—but also rays, turtles, eels, sharks, and dolphins.
To find details of what you're most likely to see and where, visit the m/s Paul Gauguin's diving page</a >. Be sure to read up on the dive program which offers onboard PADI certification and diving opportunities for beginners.
20,000 UNDER THE SEA
Not much for diving but want to see what divers see? Feel like you're vacationing in a Jules Verne novel and visit a world Twenty Thousand Leagues Under The Sea. Go on an Aquabike Adventure</a >. This self-contained bicycle-built-for-two will let you explore the sea creatures and underwater coral reefs of Bora Bora, without having to learn how to scuba dive.