March 15, 2023
THE ART OF MARQUESAN WOOD CARVING
Story by Marcia Pilgeram; photos courtesy of Cannibal Art
Established Virtuoso Travel Advisor, global adventurist, and avid blogger, Marcia Pilgeram is also a former member of the Paul Gauguin Cruises family! We are thrilled to have her as a guest writer for this issue of The Gauguin Insider: A South Pacific Luxury Cruise Blog, sharing her interview with an esteemed wood carver in the Marquesas.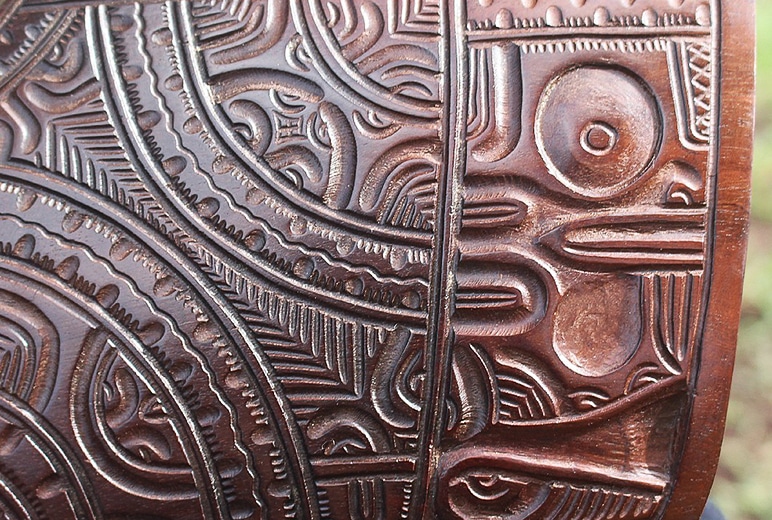 The Marquesas Islands are renowned for their wood carvings.
I recently returned from (another!) sailing on the m/s Paul Gauguin, but this was my first voyage to the distant Marquesas Islands. As a travel expert and blogger, I make it a point to experience all the destinations I sell.
French Polynesia (especially The Gauguin) is one of my top markets. I am in love with the Society Islands, from the bays and panoramic vistas on Moorea to the indescribably blue waters of Bora Bora and the picturesque, tropical hamlet of Huahine. Honestly, I didn't know what to expect upon arrival to the Marquesas Islands.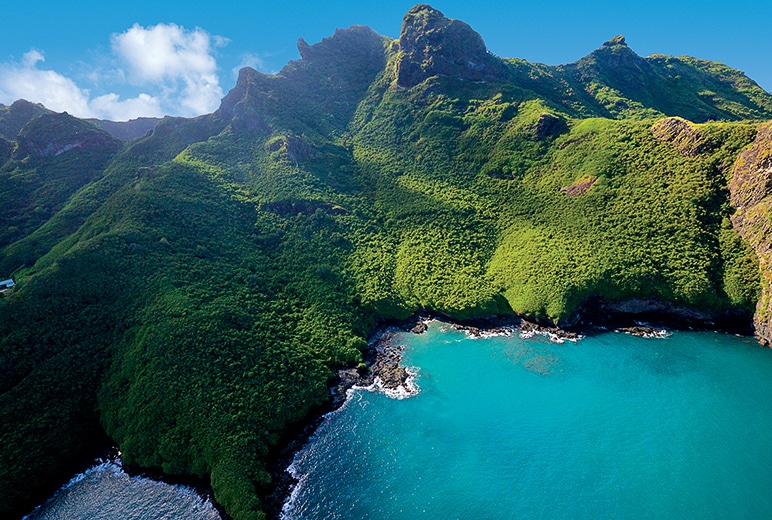 An aerial view of Nuku Hiva, Marquesas.
The Marquesas are unlike the Society Islands; they are more remote and rugged, dotted with rocky coastlines. As The Gauguin sailed towards these islands, I took advantage of our days at sea to attend the informative onboard lectures, learning more about the culture, history, and geography I would soon experience. Our itinerary on the 14-night sailing included the Marquesan islands of Fatu Hiva, Hiva Oa, Tahuata, and Nuku Hiva.
Like the Society Islands, each island has its unique offerings of history, traditions, and cultures. What was similar, though, was our warm, genuine welcome. At each island stop, multi-generations of singers, dancers, and musicians greeted us. Talented artisans were there, too, to offer an array of exquisite crafts, carvings, and even tattooing.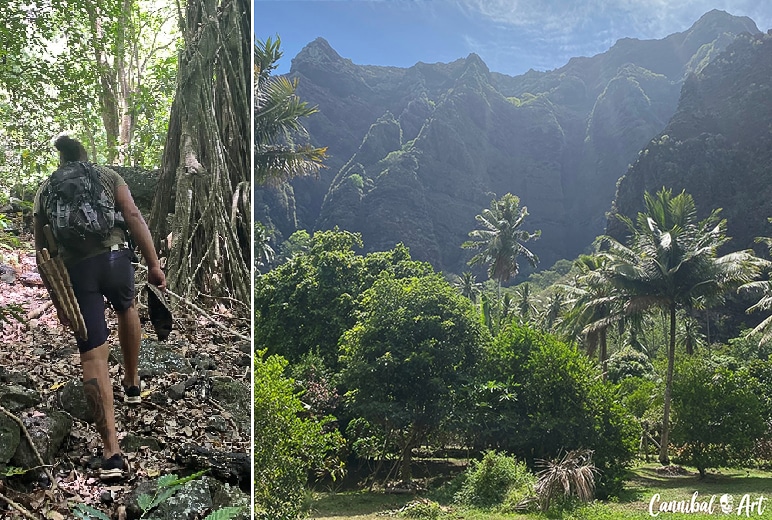 The lush, rainforested landscape of the Hakaui Valley.
From previous research (and social media), I knew that on the island of Nuku Hiva, in the primitive area of Hakaui Valley (accessible only by boat via Hakatea Bay), I would find a master carver named Tangy and his life partner Ana, founders of Cannibal Art. I've been fascinated by Tangy's work (and his distinctive, native tattoos), so I journeyed to his village. During my visit, I could watch Tangy at his craft, while Ana shared stories of Tangy's (royal) ancestors and other sacred legends that have become second nature to her.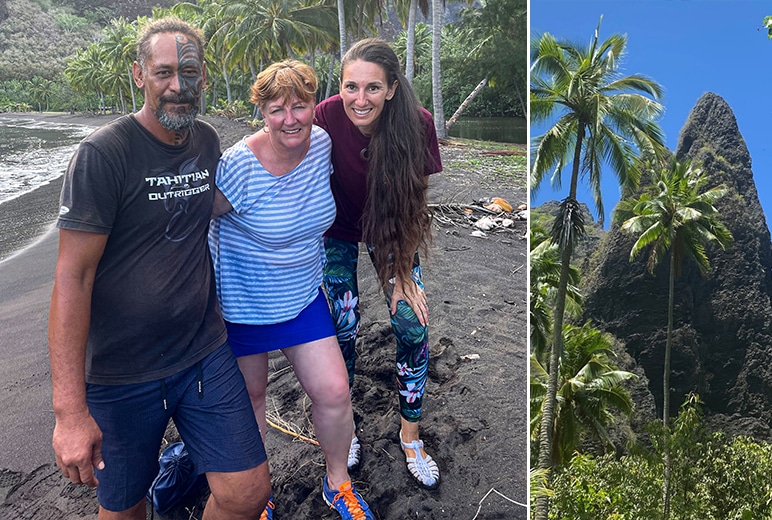 Writer Marcia Pilgeram with Tangy and Ana of Cannibal Art.
It's a life in paradise that looks idyllic, but it's not a life for the faint-hearted. Imagine living with no power, no refrigeration, and foraging off of the land (I was thankful to return to The Gauguin for dinner in Le Grill). Nevertheless, Ana and Tangy are faithful stewards and protectors of their village and are hopeful that their beloved Hakaui Valley may become a protected UNESCO site. I hope so too!
I left with finely carved hair picks for my daughters and countless memories of a day spent glimpsing into the primitive lifestyle of Tangy and Ana share on Nuku Hiva.
I also had the opportunity to interview Ana (a native of Croatia who attended university in the United States and made her way to French Polynesia to write a book on the Marquesas … and never left!). Ana so freely answered my curious questions, which I'm pleased to share with you here.
What types of woods does Tangy use? What types of bone?
Tangy uses different types of wood that grow on our island, but most often his choice is oceanic rosewood and oceanic walnut. Our home is in a remote valley that's surrounded by forest and that's where his wood comes from. When it comes to bone, he mostly carves cow bones.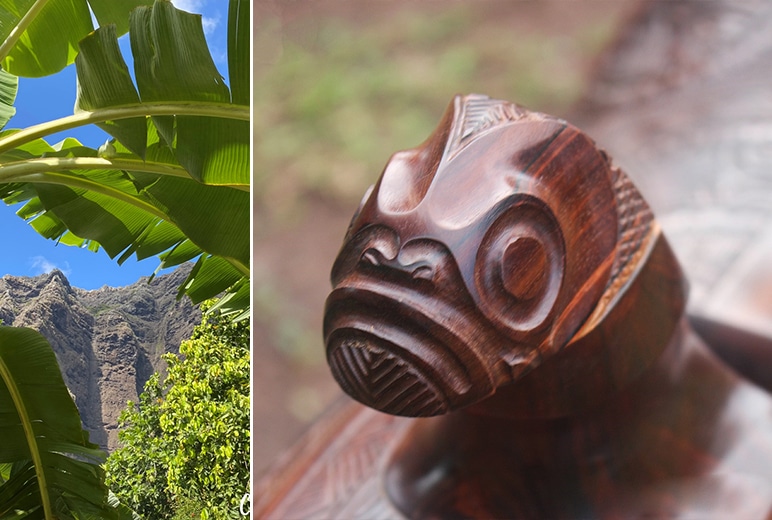 The wood for carvings comes from the surrounding rainforest.
Why wood over bone or vice versa?
Sometimes it's simply a personal choice and other times it's a commissioned artwork for the client so he follows the guidelines. The mix of different natural materials looks good together, especially wood and bone due to the contrast in color, so he also likes to combine both materials.
Does he carve anything other than wood and bone?
He carves all-natural materials that can be found on our island—from wood and bones to seashells, seeds, and stone.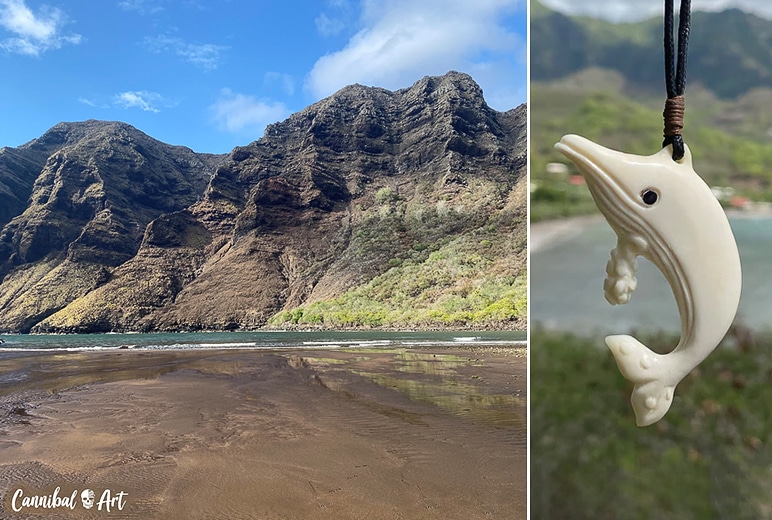 The delicate masterwork of a Marquesas bone carving.
Is there special meaning to the material itself (wood vs. bone vs. shell)?
That was the case in the past, because a certain piece would only be carved from a certain material—mostly due to the lack of tools. Nowadays, modern tools make it possible to carve any kind of traditional piece out of any kind of material.
How did he learn his craft and are there others in training?
Tangy comes from the well-known Marquesan family of woodcarvers—the Taupotini family. He mastered his art through watching the traditional techniques of his late father, older brothers, and cousins, practicing till he polished his talent to perfection.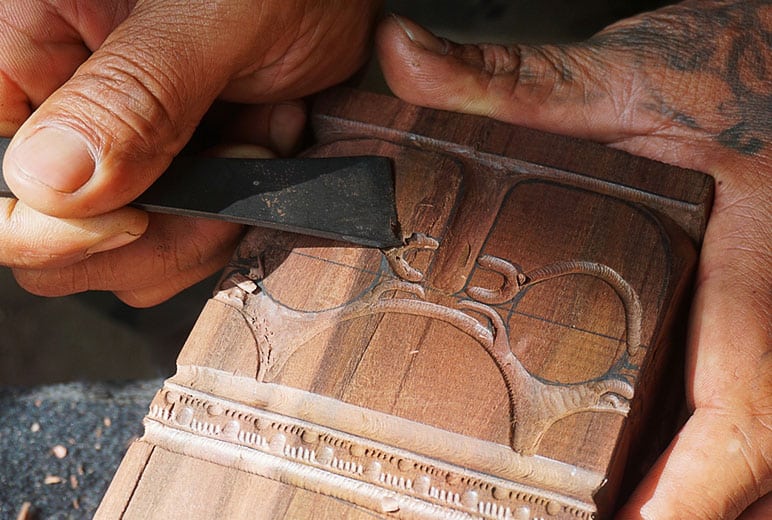 Master artisan Tangy working his craft.
Will it become a lost art?
It's hard to say. There's a small group of enthusiasts who are trying to prevent that from happening. Nowadays, it's not easy to motivate the young generation to do the work that requires a lot of patience and discipline when they are surrounded by so many distractions and some easier life options. But we will stay optimists and not give up on motivating and supporting young Marquesan artists.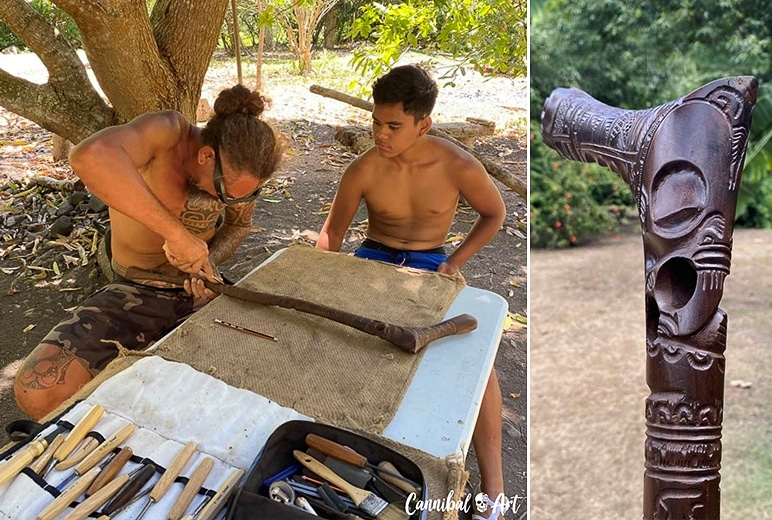 Wood carving technique, skill, and craftsmanship is passed down through generations.
If visiting the Marquesas, what is a good piece of carving to look for?
The most popular Marquesan piece is definitely tiki. But the choice is wide—from a variety of different bowls, masks, traditional tools, and weapons to stunning pieces of jewelry.
How can you tell a master craftsman's work from a "cheap knockoff"?
Marquesan art is considered among the finest in Polynesia and is well known for its elegance and complexity. It's easy to tell a cheap knockoff from a master craftsman's work by taking a simple look at it. It's important to check the wood quality and if the work was "clean" and precise—made with high attention to detail. Bargaining is not part of the culture here, so the price can also be a pretty good indicator of the quality. The piece that's very creative and takes long hours to make will be priced correspondingly when compared to the "fast art."
What are the most popular items Tangy carves? Tikis? Can he share any information about the symbolism of tikis? And any other symbolic items he carves?
Definitely the most popular are tikis. Tiki represents the spirit of adored ancestors and gods. Tiki is considered the guardian of houses and the protector of people from spells and evil forces. In the Marquesas, it is difficult to find a house without a sculpture of at least one tiki. They are always present at important ceremonies and often serve to mark the boundaries of sacred or significant places. It's easy to tell the Marquesan tiki apart from other Polynesian tikis by their shape and exaggerated size of the eyes. In Marquesan culture, the eyes are the most supernaturally powerful element of the face. The eyes of tiki (mata tiki) are also displayed on the Marquesan flag and are one of the most common carvings and tattooing motifs.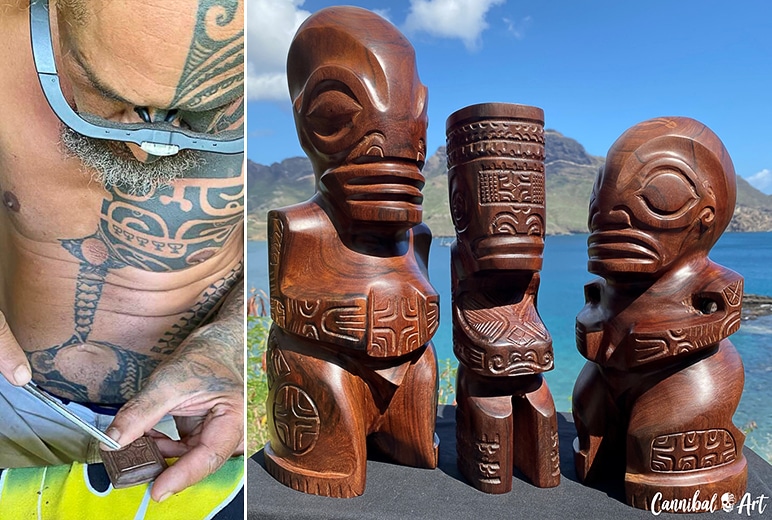 Tattoos and tikis: expressive forms of art in the Marquesas.
How long from start to finish for a smaller, simple piece? Or a large, commissioned piece?
That's a tough question because it's not about the size of the piece—it's the details that can be very time-consuming to make. A piece can take anywhere from a couple of days of work to several months for bigger items.
Ana, have you taken up carving, or do you assist with any of the prep work?
I'm slowly learning and I'm very lucky to have a great teacher. For now, I'm more involved with the logistics and organizational part of our work which allows Tangy to do what he does best.
How do you market your art?
Mostly through our website at cannibal-art.com and we're the only local company that ships the artwork directly from Nuku Hiva Island all over the world. So far, we have shipped to over 20 countries. On the website, we don't only promote Tangy's work, but also the work of the other Marquesan artists. Apart from the website, we are active on social media and you can find us at @cannibal.art.marquesas on Facebook and Instagram.
Ana, is Nuku Hiva home to you now? Do you travel? Where?
Nuku Hiva is my home in every sense of the word. I don't travel as much as I used to, because I'm fully committed to my life and work on the island.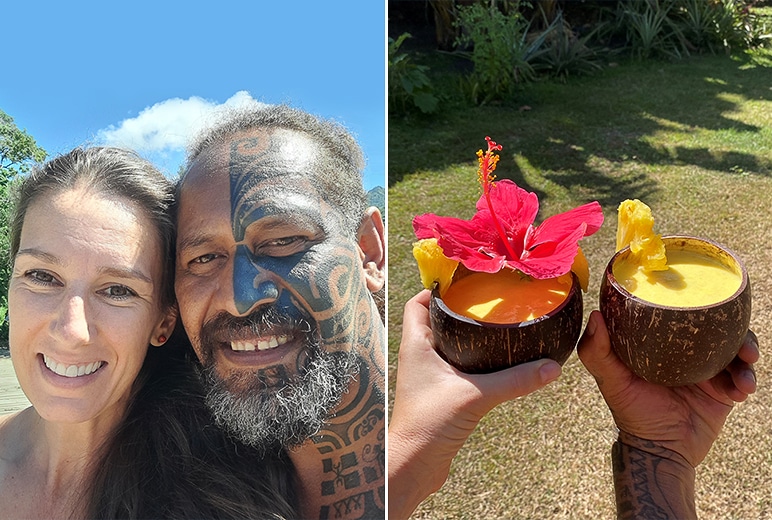 Ana and Tangy at home in paradise; Nuku Hiva, Marquesas.
How can visitors help promote and preserve your islands?
When it comes to promotion, word of mouth and social media seem to be the most effective way and we're truly grateful to anyone who takes the time out of their day to share their experience of visiting our islands. When it comes to preservation, it's not just up to visitors to travel and engage with nature and the people with great care—but it's also up to all of us who live here to speak up and educate the visitors if we see any wrong-doings. Being alert and proactive is the best way to preserve these exceptional islands for the new generations to come.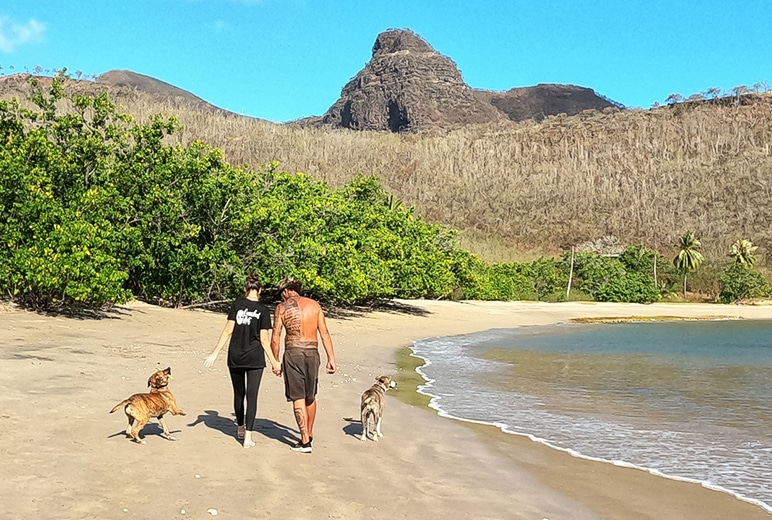 Note: While a visit to see Tangy and Ana at the Cannibal Art studio is not part of our shore excursion program, we are pleased to support local artists and businesses. Our shipboard team is happy to make private arrangements for you once you are on board.