Dec 15, 2022
It's all about the lagoon. And that mountain.
And those sugar-soft, powder-white beaches. Oh! And the reef and the motus and the big blue sky and the endless horizon. Yes, all of this is what makes Bora Bora—that verdant gem rising from a turquoise sea ringed inside a pearl-like atoll—the most romantic place on Earth.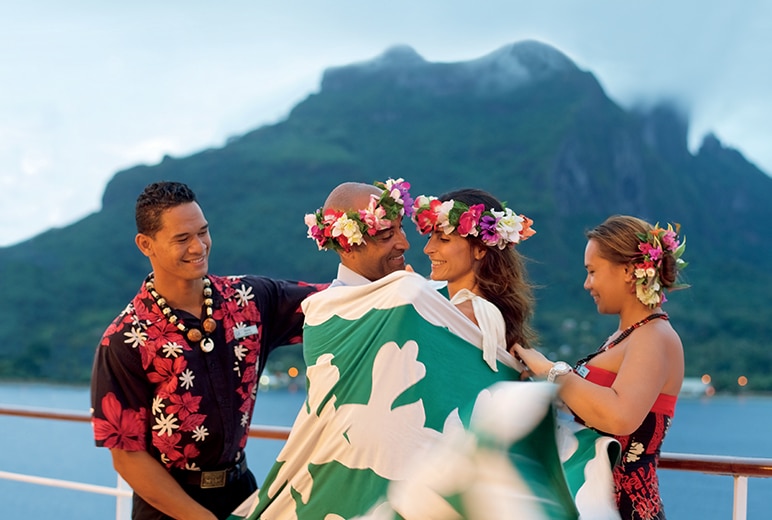 A quick Google search for the "world's most romantic island" returns results with Bora Bora topping nearly every list. And while that's a great and well-deserved vote of confidence, what really matters is that this tiny island of just 12 square miles (compared to Tahiti's 403 squared!) tops the hearts of all who visit. Its original Tahitian name Pora Pora mai te pora means "created by the gods," while the shortened Pora Pora means "first born," underscoring the ancient reverence for this heavenly piece of paradise.
In this issue of The Gauguin Insider, we're pleased to share our top five picks on what makes Bora Bora so enchanting, and we'll start with that mesmerizing, intoxicating, and inviting lagoon.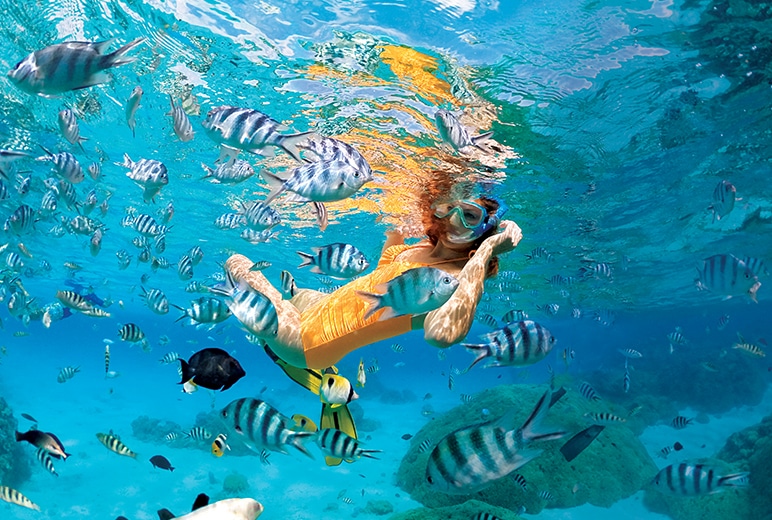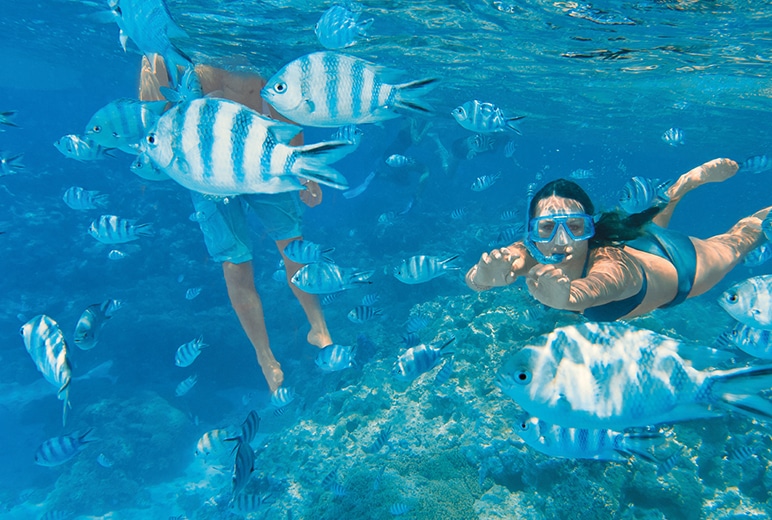 1) ITS WORLD-FAMOUS LAGOON
Emerging from the sea some seven million years ago—a few million years before Tahiti or Raiatea (hence its "first born" name)—Bora Bora is what remains of an extinct volcano's caldera. As the volcano sank back into the sea, a string of coral motus (little islets) formed along what was once its rim, creating an extraordinary barrier reef and a world-famous lagoon. Indeed, Bora Bora's lagoon is three times the size of the island itself! Calm, clear, and protected, the waters come in every shade of blue—from seafoam and turquoise to cobalt and indigo.
Shimmering in the sunlight, the lagoon is dreamlike and magical; the urge to jump in is impossible to resist. Here you can snorkel among vibrant coral gardens to see jack fish, turtles, parrot fish, rays, blacktip reef sharks, and more. You might choose to explore in an Aquabike underwater scooter, and experienced SCUBA divers can opt for a dive with majestic manta rays. Above the water there are catamarans and jet skis, glass-bottom boat tours (the waters are truly crystal-clear!) and sunset cruises in outrigger canoes.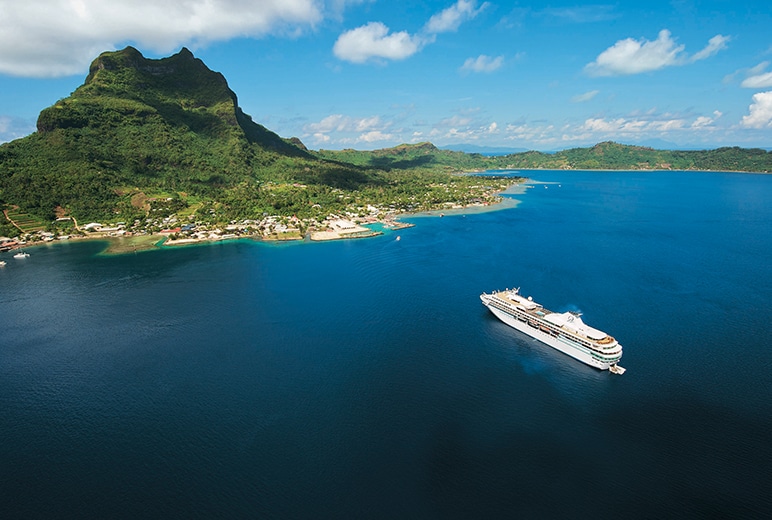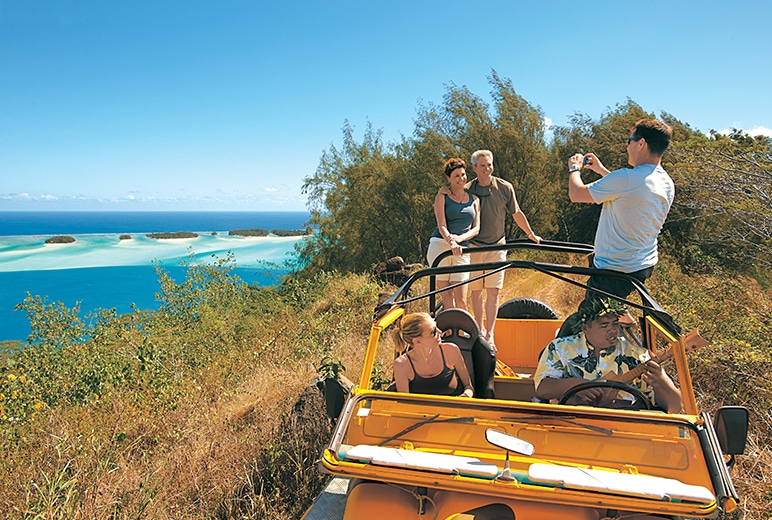 2) THE ICONIC MOUNT OTEMANU
That Bora Bora is said to be the most photographed island in the South Pacific likely has a whole lot to do with this mountain. Soaring nearly 2,400 feet above sea level, Mount Otemanu is one of two peaks on the island (the other being Mount Pahia at 220 feet) and is the definitive symbol of Bora Bora. Legend holds that the god Ora descended on the peaks of Bora Bora via a rainbow, and with the lush, forested slopes and deep valleys rich with coconut palms, orange trees, and vanilla plants, it's easy to understand why a god would want to land here! Guided hikes and off-road adventures in a Land Rover or authentic Polynesian "Le Truck" will lead you to small villages, traditional plantations, WWII sites, and spectacular vistas.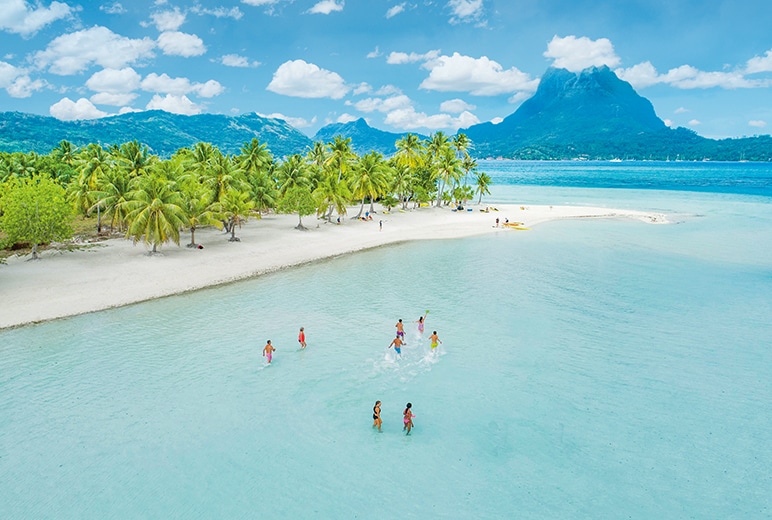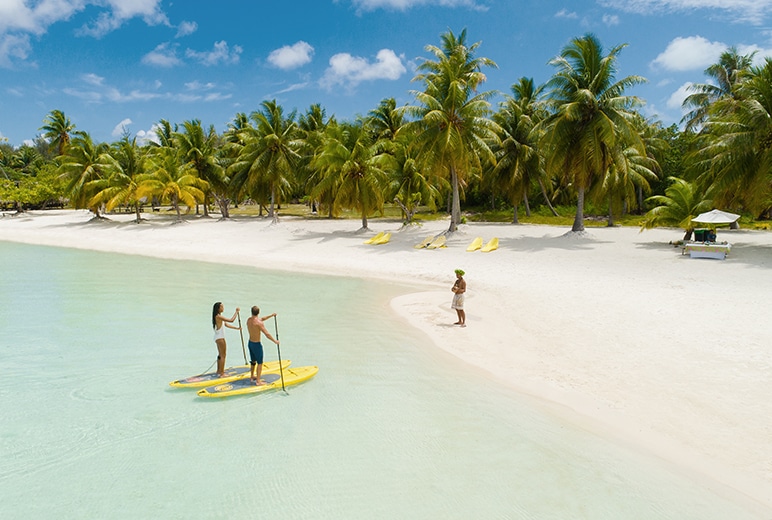 3) OUR PRIVATE BEACH ON A MOTU
In Tahitian, the word motu means "small island" and there are hundreds of them dotting the lagoons throughout French Polynesia. Scientifically speaking, a motu is reef islet formed by fragments of coral and sand, and often considered too small to be an actual island. Emotionally speaking, a motu is a little slice of paradise cast adrift in an aquamarine sea, drenched in sunshine, shaded by palms, kissed by trade winds…If this sounds divine to you, you're in luck because when the m/s Paul Gauguin calls in Bora Bora (usually on an overnight stay) we'd be more than happy to escort you to our own private beach on a motu in the middle of the lagoon. Here you can relax in tropical exclusivity as your eyes gaze over the crystalline waters and fall upon the dramatic silhouette of Mount Otemanu.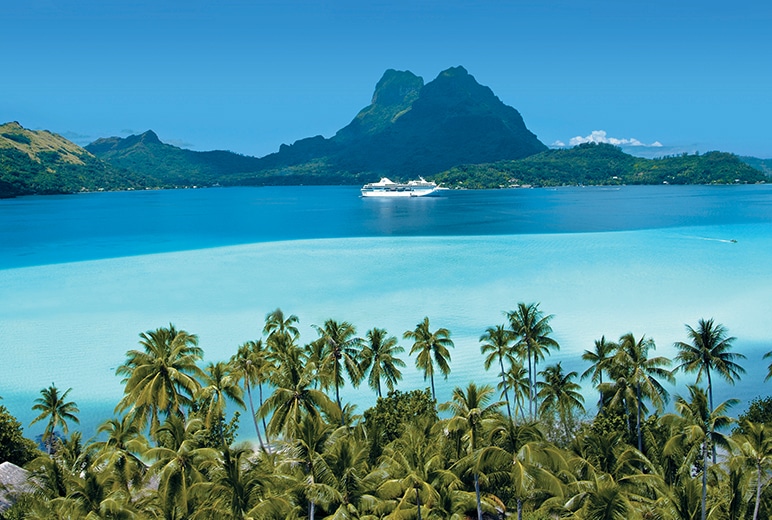 4) DAZZLING MATIRA BEACH
Travel + Leisure, US News & World Report, the Travel Channel, guests of The Gauguin, and more have all declared Matira Beach on Bora Bora's southernmost tip as a must-see. It is justifiably included among the World's 50 Best Beaches (sponsored by Ray-Ban), whose panel of 1,200+ journalists, bloggers, and influencers cite its "sands whiter than snow" and "water the color of turquoise come to life" as criteria. Despite being a public beach, the dazzling shoreline is rarely ever crowded and the vibe is typically mellow and subdued. Its west-facing views ensure spectacular sunsets.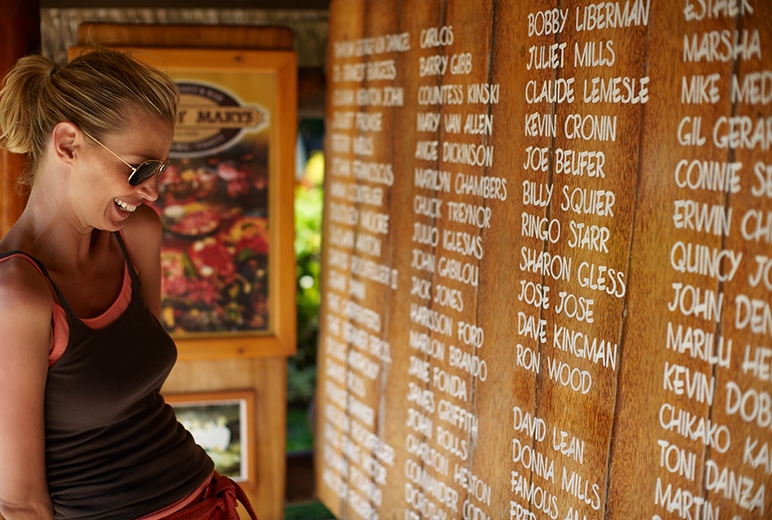 5) BLOODY MARY'S: AN ISLAND ICON
What do Warren Buffet, Pierce Brosnan, Marlo Thomas, and Janet Jackson all have in common? They (along with hundreds of other celebrities) have all made the pilgrimage to the world-famous restaurant and beach bar known as Bloody Mary's. Founded in 1979 by a Polish noble, Baron Jerzy Hubert Edward von Dangel, this charming thatched-roof pub with open sides and a sandy floor serves up large portions of fresh seafood and engaging hospitality. It's a friendly, welcoming place—good for some drinks, some food, and a lot of good manuia (cheers)!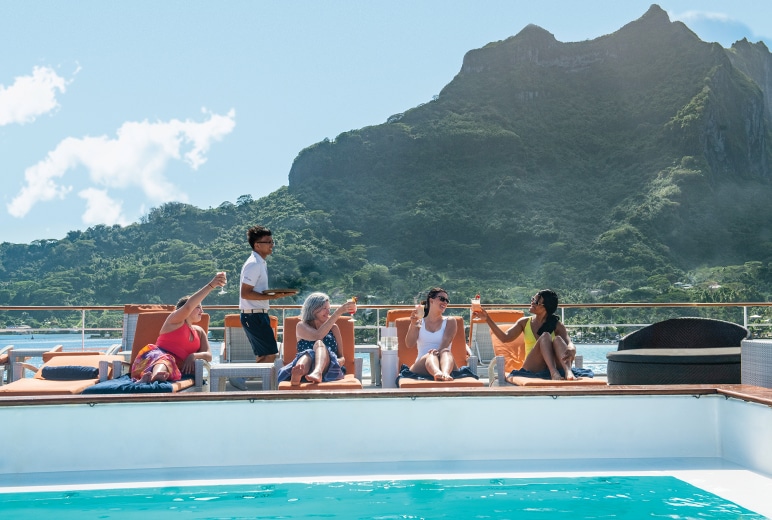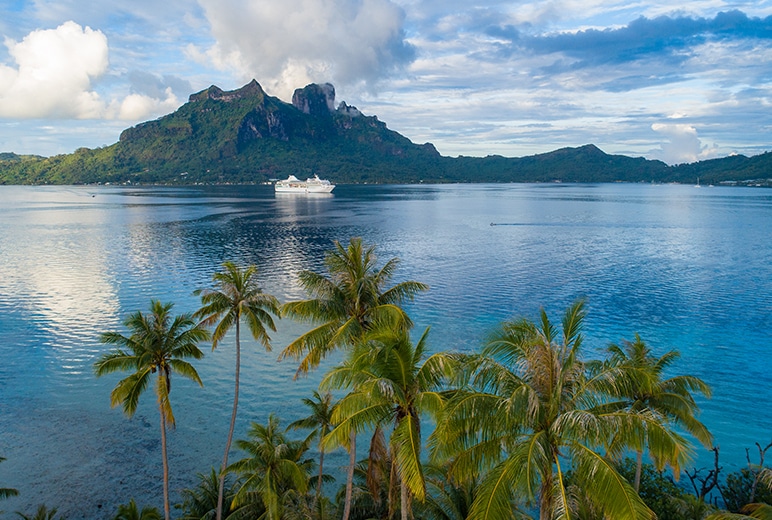 Of course, we think one of the best places to fully appreciate Bora Bora's transcendent beauty is from the very decks of the m/s Paul Gauguin. At sunrise, sunset, or midday cocktails by the pool, the views are amazing, and the memories everlasting. So set your heart on a course for the world's most romantic island and let the world's #1 Small-Ship Ocean Line take you there in all-inclusive luxury. Seven of our eight unique itineraries visit this enchanting isle, and we'd love to host you.