August 17, 2023
An Award-winning Legacy in a Land of Legends
What does it take to build a legacy in a land full of legends? In the case of The Gauguin Experience it takes vision, purpose, devotion, and above all, people who are passionate about sharing the beauty and culture of one of the most enchanting places on Earth.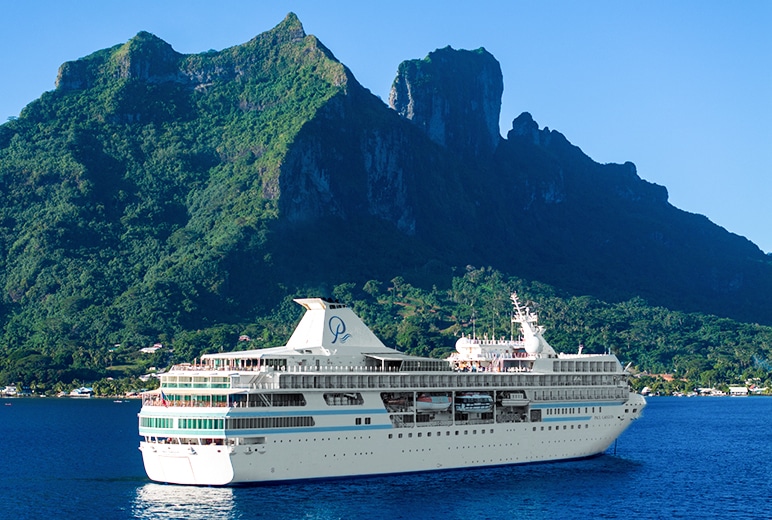 The beloved m/s Paul Gauguin is as much a part of French Polynesia's archipelagos as the islands themselves.
So stunning is French Polynesia that the ma'ohi (Polynesians) who first settled these islands more than 2,500 years ago called upon their ancestral gods to understand its beauty—Tangaroa, God of the Sea; Tane, God of Beauty and Peace; Hina, Moon Goddess; Pare, Goddess of Volcanoes; and Haka, Goddess of Sky and Earth—passing down the myths and legends of each through the following generations.
Fast forward to 2023 and another treasure is being fêted for its own unique place in the story of French Polynesia as the m/s Paul Gauguin celebrates 25 years of hosting travelers on immersive voyages with artful authenticity. Intimate and carefree, The Gauguin was purposefully designed to navigate the region's lagoons and atolls with care, welcoming just 330 guests in all-inclusive comfort on more unique itineraries to more boutique ports of call than any other luxury line in the region.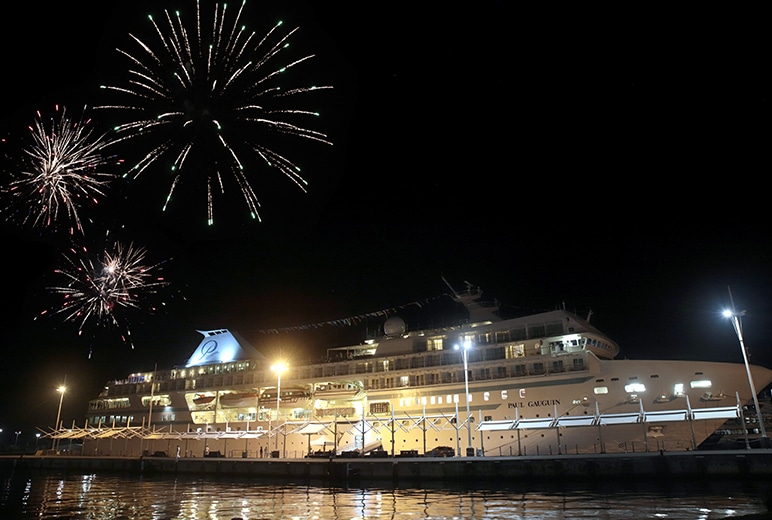 Tahiti's favorite ship, The Gauguin, is celebrated beneath crowning fireworks on a beautiful, star-lit summer night.
The ship's legacy as the longest continually operating luxury ship in French Polynesia was celebrated on July 29, 2023, in Papeete, Tahiti, when Hervé Gastinel, CEO of PONANT (parent company of Paul Gauguin Cruises) and Captain Michel Quioc, hosted more than 50 dignitaries—including French Polynesia Minister of Health Cédric Mercadal, attending on behalf of the President of French Polynesia and Minister of Tourism Moetai Brotherson, and High-Commissioner of the Republic in French Polynesia Eric Spitz—and special guests on board for an evening of acknowledgements, festivities, and fireworks.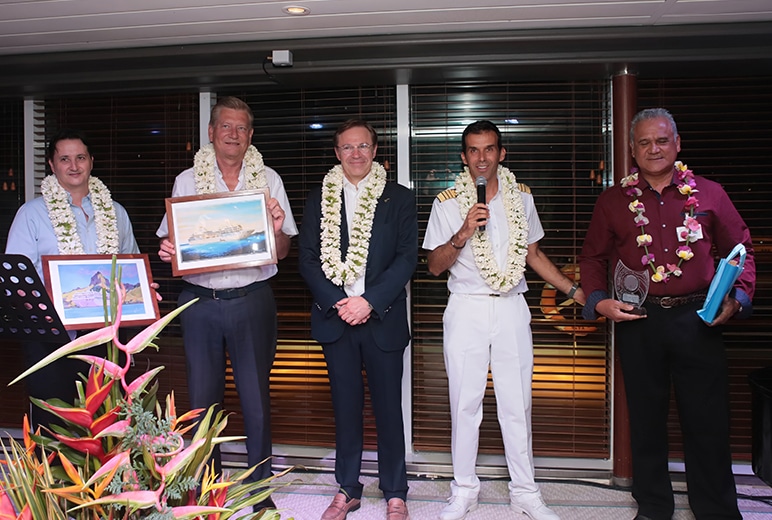 Commemorating a milestone aboard the m/s Paul Gauguin (L to R): French Polynesia Minister of Health Cédric Mercadal; High-Commissioner of the Republic in French Polynesia Eric Spitz; PONANT CEO Hervé Gastinel; Captain Michel Quioc; and, Port Commissioner Alphonse Kautai.
Commenting on the milestone event, Gastinel said, "We are immensely grateful to all our partners, both within and outside of French Polynesia, whose unwavering support have led to the continued success of the beloved m/s Paul Gauguin. Together, we have brought 250,000 travelers to this beautifully unique destination that we have called home year-round for the past 25 years contributing more than $26 million annually in the development and the economy of these islands."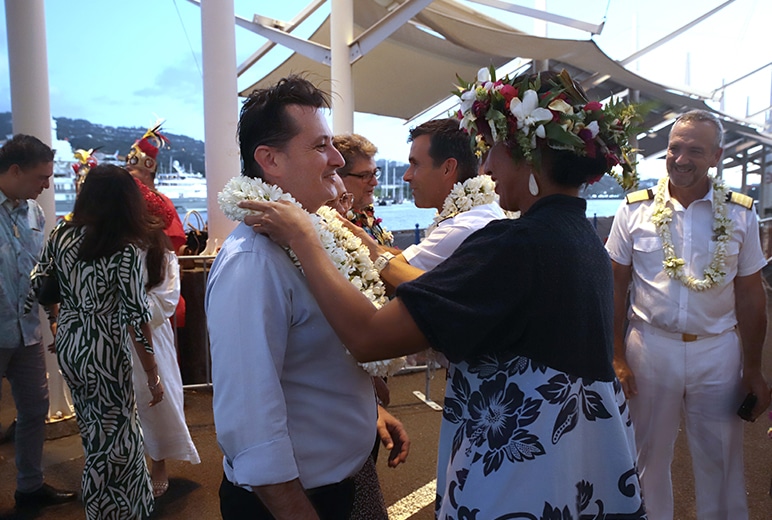 French Polynesia Minister of Health Cédric Mercadal is welcomed aboard The Gauguin with a traditional lei.
Minister of Health Mercadal remarked on the long-term partnership: "Thanks to our combined efforts, each island visited was able to benefit from many economic benefits and in this we would like to thank the shipowner, PONANT, who continues to believe in our destination."
The Gauguin remains the region's gold standard in small-ship luxury cruising, known for its immersive experiences, welcoming ambience, excellent cuisine, and exceptional staff. Captain Quioc, who praised the ship's crew during the ceremony said, "It is the dedication of our devoted crew who bring The Gauguin Experience to life every day with heartfelt passion, and it was an honor to use this momentous occasion to recognize five crew members for their 25 years of exemplary hospitality."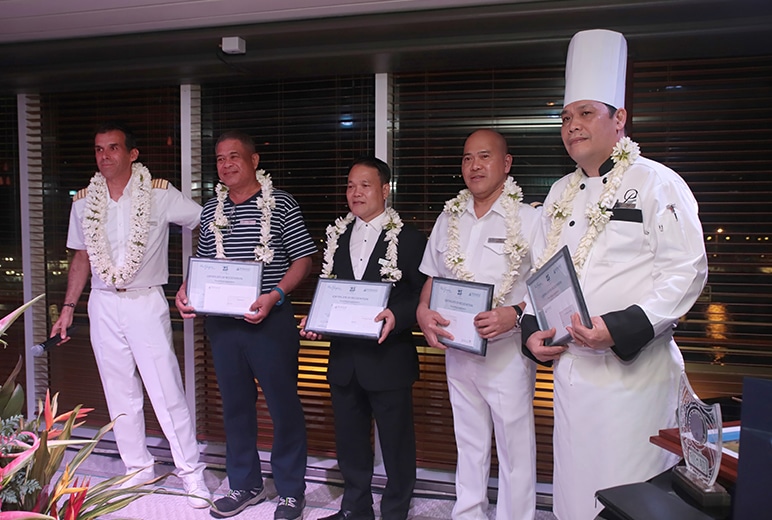 Captain Michel Quioc honors crew members for their 25 years of exemplary hospitality (L to R): Captain Quioc, Master of The Gauguin; Philip Rizan, Tender Master; Alexander Francisco, Ship's Printer; Apolinario Pelegrino, Jr., Head Waiter; Virgil Elefane, Ship's Cook. Not pictured: Jovito Calimlim, Ship's Cook.
Indeed, it is the heartfelt passion of a tight-knit crew that serves as the heartbeat of every voyage; and while many staff have been with The Gauguin for years, here—in words shared by their own colleagues—we are honored to recognize those five who have been instrumental in building our legacy since the beginning: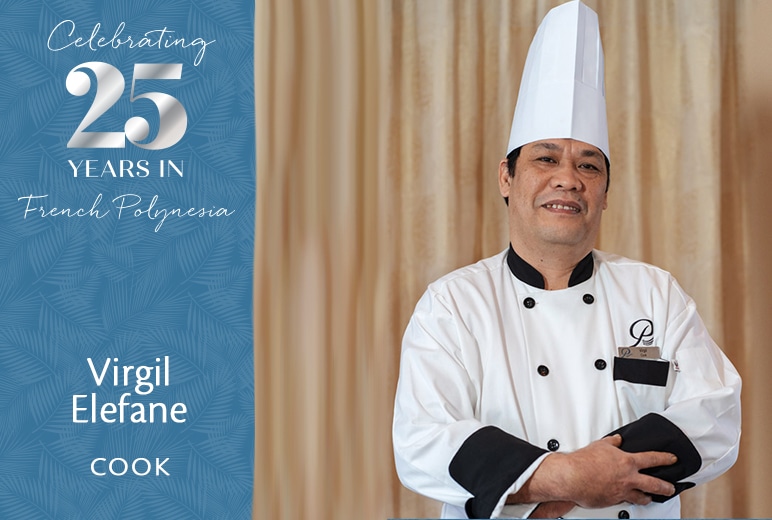 "Virgil does a great job day in and day out. Over the years he has proven himself in the galley. He is professional, respectful and always willing to go the extra mile to help take care of our guests and crew here on the ship. I have known and worked with Virgil since 2011 and can say it is always a pleasure to work with him." ~ Executive Chef Paul Ellis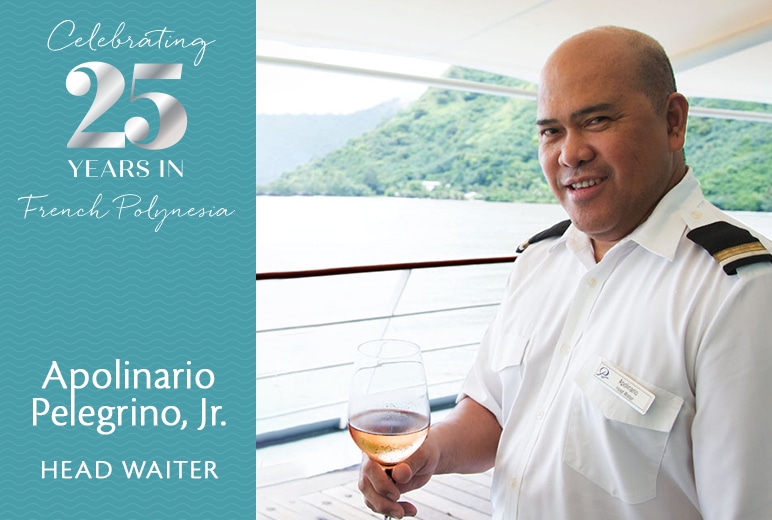 "Apolinario goes above and beyond in making sure his dining venue is ready each meal and makes each dining experience special to our guests." ~ Maitre D' Allan Kabiling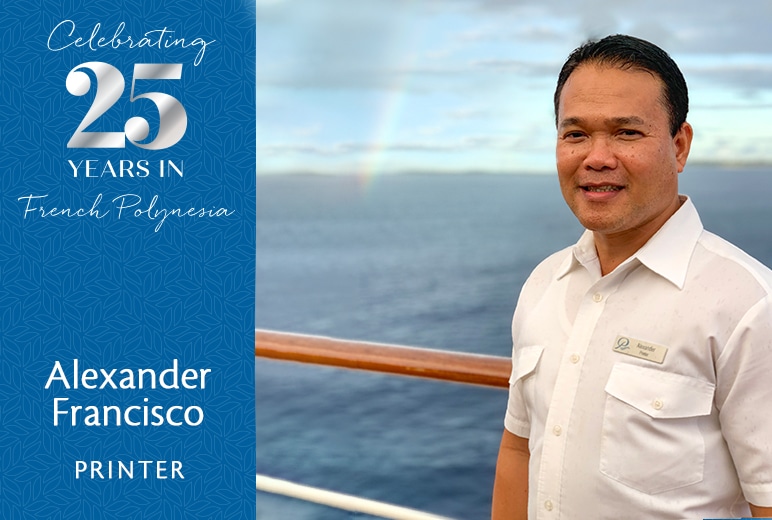 "Alex is very dedicated to his work and gives extra attention to the details. He is proactive and always prompt with his task, even for a last-minute request. Alex always goes the extra mile and is happy to assist all department heads. He is very respectful to all and is a pleasant person to work with. Alex is very loyal and loves working aboard The Gauguin." ~ Hotel Director Christian Deniel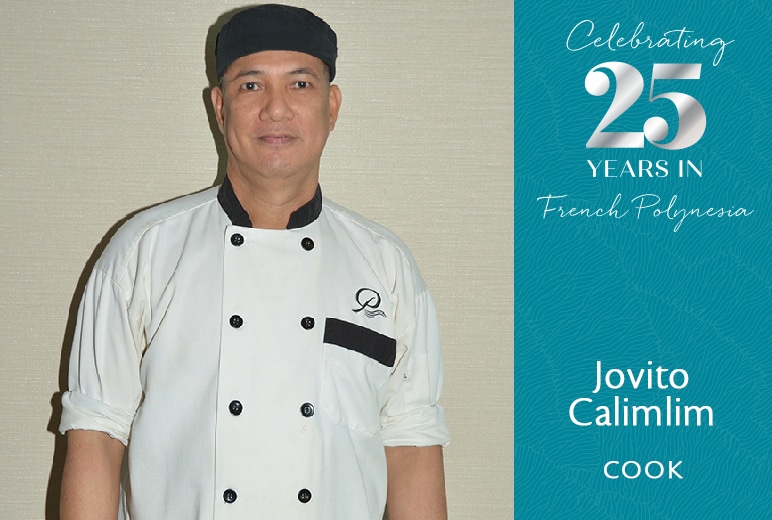 "I have worked with Jovito since 2011. Over the years Jovito has worked just about all the stations within the kitchen. He is respectful, professional, and always willing to help out were needed to get the job done. Day to Day he does a great job in the galley and is an asset to our team." ~ Executive Chef Paul Ellis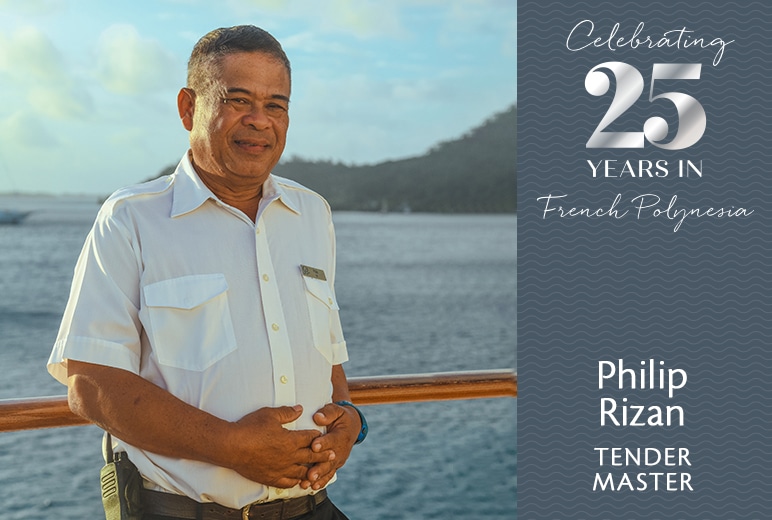 "As I joined the m/s Paul Gauguin two years later, Philip and I used to work together on the ship 23 years ago. We both were younger seamen at that time, at lower positions. We spent long hours on watch at the bridge, hours on working the safety of the ship. Always smiling and helping, respectful, he was a good mate to share working time and off time. Today it is my pleasure to share this anniversary with Philip, me as a captain, him a tender master. Thank you very much Philip for the years on the m/s Paul Gauguin, and the good memories that last forever." ~ Captain René-Paul Boucher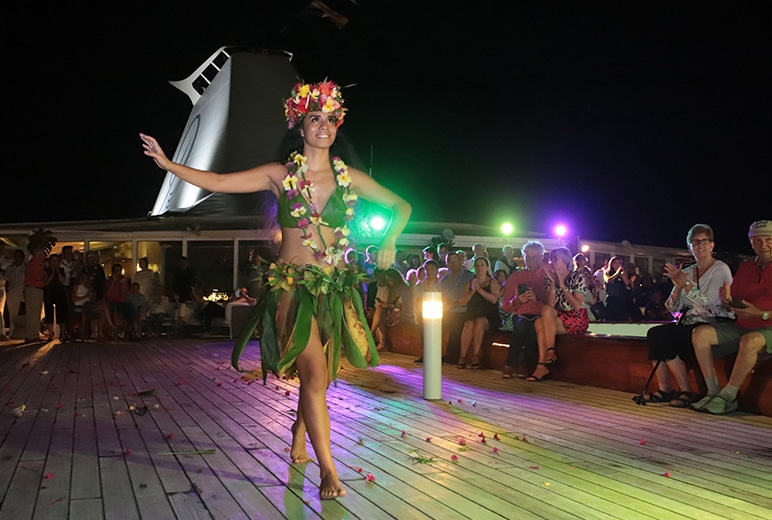 Ceremony attendees and guests sailing on The Gauguin's July 29th voyage were treated to
a traditional performance by O Tahiti E under the direction of Marguerite Lai.
Vision. Purpose. Devotion. The passion of people, and the loyalty of our guests. That is how the m/s Paul Gauguin became a legacy in a land of legends. We look forward to welcoming you on board!