Cruises visiting Beqa Island (Fiji)
In Fiji, virtually everyone you'll meet will be smiling—and when you view the high mountains, lush vegetation, shimmering waters, and pristine white-sand beaches of this island nation, you'll understand why. A British colony for nearly a century before gaining its independence in 1970, Fiji remains English speaking and today boasts a multinational population, among whom the majority are of Melanesian descent. As you mingle with the locals, you'll see why Melanesians are reputed to be among the friendliest people in the world.
Located about six miles off the coast of Fiji's main island, Viti Levu, Beqa Island measures less than six square miles in territory—yet it looms large among those seeking a paradise by the sea. Surrounded by one of the largest barrier reefs in the world, the island offers exceptional snorkeling at high tide, with an abundance of colorful tropical fish teeming among the coral blooms. Or bask on a golden-sand beach shaded from an azure sky by swaying palms.
Inland, the island is carpeted with lush rainforest laced with waterfalls and streams and dotted with villages known for their tradition of firewalking and joyous hospitality.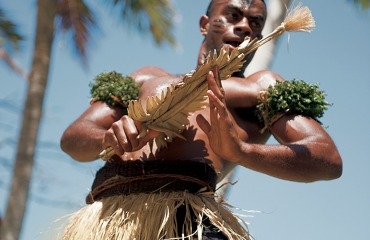 Duration: 15 Nights
Next Departure Date: 10/26/2024
More information
Duration: 13 Nights
Next Departure Date: 11/10/2024
More information
Duration: 15 Nights
Next Departure Date: 1/4/2025
More information
Duration: 13 Nights
Next Departure Date: 5/1/2025
More information
//= __('The price displayed does not take into account the actual availability of cabins') ?>