Cruises visiting Rangiroa, Tuamotu Islands (French Polynesia)
Points Of Interest
"God's Aquarium"
Larger than the island of Tahiti, Rangiroa's turquoise lagoon has been call "God's Aquarium" by divers and snorkelers from around the world. View myriad dazzling tropical fish cavorting in one of the world's most beautiful and richest coral reefs on a snorkeling or diving expedition. Snorkeling and diving excursions are available from The Gauguin.
Village Exploration
Rangiroa's permanent residents all reside on two islands on the northern end of the atoll, and most make their home in the atoll's two primary villages, Avatoru and Tiputa. Most shops and activities can be found in Avatoru, which also hosts the airport and the port for The Gauguin. Accessible only by boat, Tiputa is the atoll's administrative center. Both villages are easily explored on foot or by bicycle or scooter.
Beaches & Lagoons
Excursions are available to many local natural wonders. Best known is the Blue Lagoon (Lagon Bleu), a lagoon within the lagoon, located about an hour's boat ride from Avatoru. To the north of the Blue Lagoon lies l'Ile des Oiseaux, a sanctuary for seabirds. Reef Island (L'Ile aux Recifs) offers swimming in basins formed by fossilized coral formations. Pink Sand Beach (Les Sables Rose) is a gorgeous and still-undiscovered beach. And as you cruise Rangiroa's lagoon, perhaps you'll see dolphins jumping at Tiputa Point.
Pearl Farm
One of the largest black pearl cultivators in Polynesia lies in the middle of the motu of Avatoru and can be accessed by the island's only road or via the lagoon. Here, you can witness firsthand how pearls are cultivated and harvested. Available as a shore excursion from The Gauguin.
Local Information
Population: 2,500 (2012)
Language: French, Paumotu
Currency: XPF
Scheduled Docking Location: Anchored, tender to Ohutu pier
Shopping: Local vendors are set up on the pier upon the ship's arrival.
Banks / ATMs: There are two ATMs on Rangiroa, both in Avatoru: Banque de Tahiti, in the village (Mon-Fri 7:30am to 11:30am and 1pm to 4pm) and Banque Socredo, beside the airport terminal (Mon, Wed & Fri 7:30am to 11:30am and 1:30pm to 4pm; Tue & Thu 1:30pm to 4pm). Banque Socredo has two 24-hour ATMs. Cash: best to have local currency (XPF).
Post Office: Tiputa and Avatoru
Internet/Wi-Fi: Snack Lili located on the pier Ohutu, Wi-fi available with a purchase of drink/lunch.
Airport Transportation: The airport is located a few miles from the village of Avatoru and offers direct flights to Papeete and Bora Bora.
Taxis: Manu Taxi Boat, Ohutu Pier
Rental Cars:
Arenahio Location: +689 (40) 96-82-45
Giroux Rangiroa Services: +689 (40) 96-04-96 / (87) 79-24-79
Ohotu Transport: +689 (87) 77-28-02
Rangi Rent A Car: +689 (40) 96-03-28 / (87) 21-35-08
Port Agent Contact:
Office: +689 (40) 86-51-32
Mobile: +689 (87) 29-25-02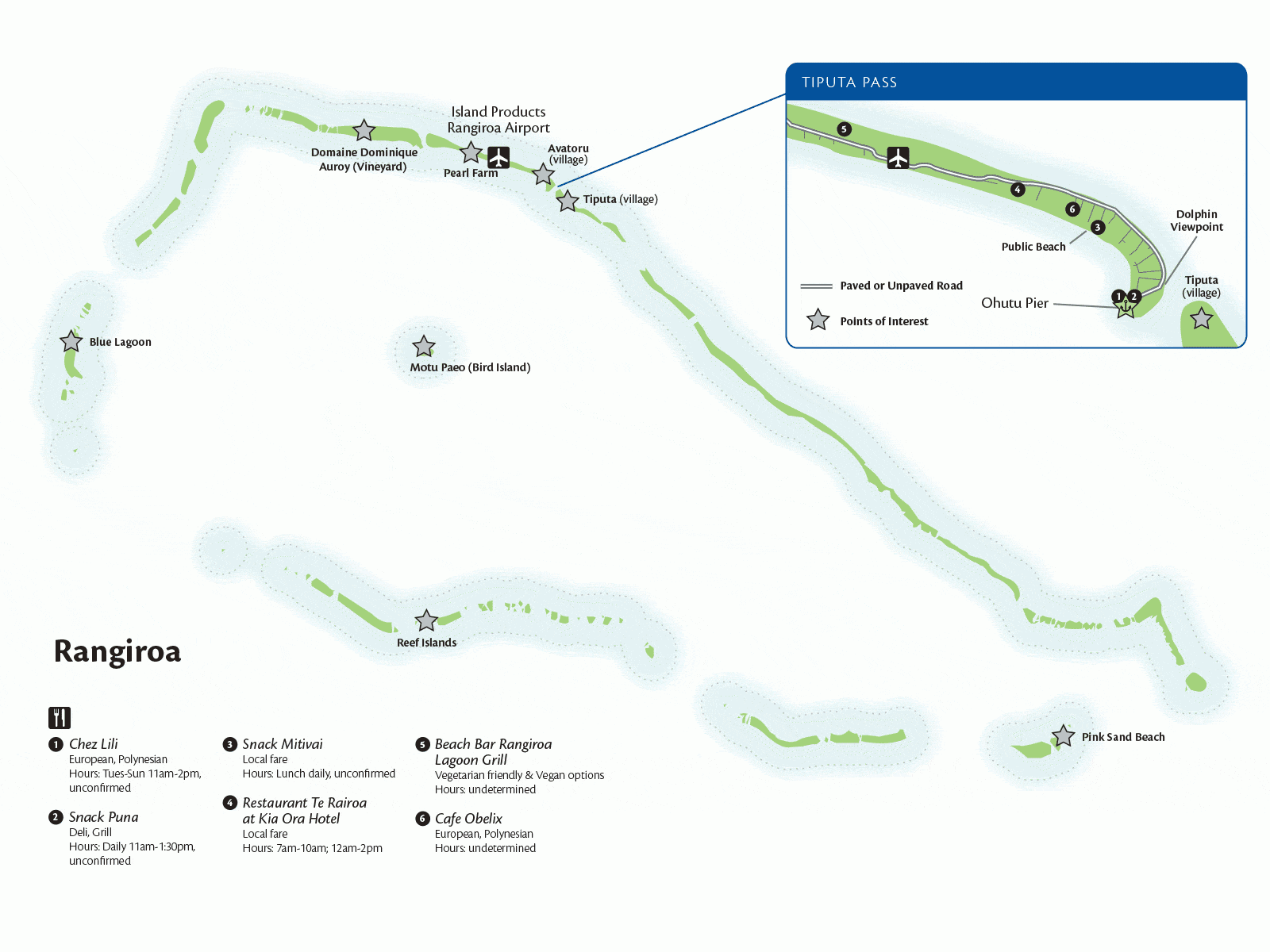 Download Port Flyer</a >
Duration: 10 Nights
Next Departure Date: 5/14/2025
More information and Available dates
Duration: 10 Nights
Next Departure Date: 6/4/2025
More information and Available dates
Duration: 10 Nights
Next Departure Date: 10/8/2025
More information and Available dates
Duration: 10 Nights
Next Departure Date: 11/26/2025
More information and Available dates
Page
You're currently reading page

2
//= __('The price displayed does not take into account the actual availability of cabins') ?>