Cruises visiting Papeete, Tahiti Island (French Polynesia)
Points Of Interest
Along The Waterfront
Place Vaiete • Pier A favorite gathering place for office workers during the day and families at night, people come to stroll, take in the view, and dine at inexpensive food caravans (Les Roulottes). Often traditional bands play on the bandstand adding to the festive atmosphere. Roulottes open daily around 6pm.
Paofai Gardens A landscaped waterfront park with a canoe launch and children's play area, you'll find plenty of activity to take-in during your stroll.
Place Toata The outdoor amphitheater hosts concerts all year and also the national dance competition during the huge Heiva Nui festival in July. Next door, on the banks of Tipaerui River, stands the Office Territorial d'Action Culturelle, Tahiti's cultural center and library.
Central Papeete
Papeete Market (Le Marché) • one block inland The colorful public market hustles and bustles downstairs with vendors selling flowers, fish, meat, fruit, vegetables, and baked goods, as well as small gift items. Upstairs, you will find pearls, jewelry, larger handicrafts such as wood carvings and quilts, and a cafeteria where you can listen to local musicians at lunchtime. The largest market of the week is early Sunday morning. Mon–Fri 5am to 5pm, Sat: 5am to 12pm noon, Sun: 4am to 9am (Handicraft area will open around 8am and most are closed on Sunday).
Vaima Center • Boulevard Pomare The chic shops in Papeete's first shopping mall are a mecca for Papeete's French and European residents (the Municipal Market still attracts mostly Tahitians).
Bougainville Park • Boulevard Pomare Located near the Post Office, this small park off ers an oasis of greenery in the heart of the city. Throughout the year, floral, cultural and artistic exhibitions take place here.
Robert Wan Pearl Museum Created by local pearl pioneer and entrepreneur Robert Wan, this small museum showcases the history of pearls and his unique pearl collection. Display highlights include the largest round Tahitian cultured pearl in the world, a pearl-covered prayer book once belonging to Charles II of France (AD 840–870), stunning jewelry and educational information regarding cultured pearl farming. Free • Mon–Sat 9am to 5pm (last entry at 4:45, closed Sun & holidays).
Local Information
Population: 25,769 (2012)
Language: French, Tahitian
Currency: XPF
Scheduled Docking Location: Quai d'Honneur, Place Vaiete
Shopping: Shops are generally open Mon–Fri 8am to 5pm (Sat–until noon, Sun–closed) and close during lunch hours. Popular areas are Papeete Market, Vaima Shopping Center, and along Boulevard Pomare.
Port Agent in Papeete:
Pacific Maritine Agency S.A.S
C°/ Hotel Intercontinental Tahiti Resort
BP 6 014
98 702 Faa'a Tahiti
French Polynesia
Phone: +689 (40) 86-51-33
Speaking The Language…
FRENCH
Hello: Bonjour
Goodbye: Au revoir
Thank you: Merci
Excuse me: Excusez-moi
Please: S'il vous plaît
Yes: Oui
No: Non
Do you speak English?: Parlez-vous anglais Can you help me? Pouvez-vous m'aider?
TAHITIAN
Hello: Ia Orana (yo-rah-nah)
Goodbye: Nana (nah-nah)
Thank you: Mauruuru (mah-roo-roo)
Please: No real word. "Na" softens requests
Yes: E (ay)
No: Aita (eye-tah)
Do you speak English?: Ua ite oe i te parau Marite? (oo-ah ee-tay oh-ay ee tay pah-rah-oo mah-ree-tay)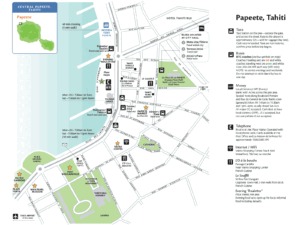 Duration: 7 Nights
Next Departure Date: 7/26/2025
More information and Available dates
Duration: 7 Nights
Next Departure Date: 8/2/2025
More information and Available dates
Duration: 14 Nights
Next Departure Date: 8/9/2025
More information and Available dates
Duration: 7 Nights
Next Departure Date: 8/23/2025
More information and Available dates
Duration: 7 Nights
Next Departure Date: 8/30/2025
More information and Available dates
Duration: 14 Nights
Next Departure Date: 9/6/2025
More information and Available dates
Duration: 7 Nights
Next Departure Date: 9/20/2025
More information and Available dates
Duration: 11 Nights
Next Departure Date: 9/27/2025
More information and Available dates
Duration: 10 Nights
Next Departure Date: 10/8/2025
More information and Available dates
Duration: 7 Nights
Next Departure Date: 10/18/2025
More information and Available dates
Duration: 14 Nights
Next Departure Date: 10/25/2025
More information and Available dates
//= __('The price displayed does not take into account the actual availability of cabins') ?>