Cruises visiting Vava'u Islands (Tonga)
One of the easternmost countries in the world, nudging the International Date Line, the Kingdom of Tonga was never colonized by Europeans, a distinction it shares with no other South Pacific nation. As a result, today it is the oldest and last remaining Polynesian monarchy, and its culture remains strong, even in the face of modernization.
In addition to being a cultural capital, it is a fantastic place to view a wide array of wildlife, especially in the crystal-clear lagoon, where divers can see to a depth of 130 feet. Species include giant clams, manta rays, sea turtles, spinner dolphins, more than 100 species of colorful tropical fish, and—between July and October—humpback whales.
A climb to the top of Mt. Talau, the highest point on Vava'u, offers unparalleled views of the surrounding Tongan islands.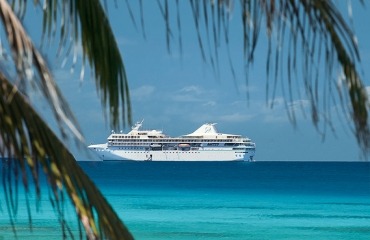 Duration: 15 Nights
Next Departure Date: 10/26/2024
More information
Duration: 13 Nights
Next Departure Date: 11/10/2024
More information
Duration: 15 Nights
Next Departure Date: 1/4/2025
More information
Duration: 13 Nights
Next Departure Date: 5/1/2025
More information
//= __('The price displayed does not take into account the actual availability of cabins') ?>