January 23, 2023
FRENCH POLYNESIA'S CULTURAL RICHNESS
Story and photos by Fran Golden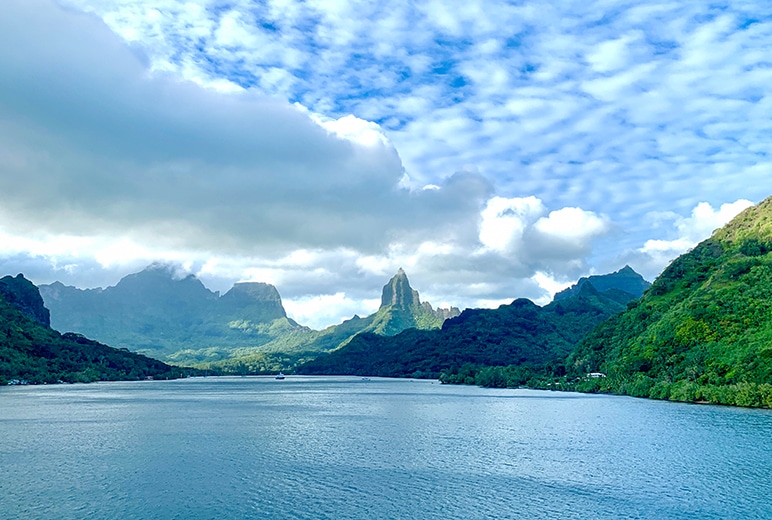 Beautiful landscapes abound, the ship giving you a front-row seat such as when you near Moorea.
Sea in more shades of blue than you can possibly imagine, dark volcanic peaks, sparkling green rainforest, and miles of white sand are the calling cards of French Polynesia, and such views will linger in your memory long after your visit. On a cruise aboard the m/s Paul Gauguin, so will cultural memories of the islands.
While insight into local culture can be elusive on cruises that visit a port a day – and sometimes a different country a day – it comes naturally on a small luxury ship renowned for its artful authenticity in exploring the islands of the South Pacific; something The Gauguin has been doing for 25 years as the highest rated and longest continually operating luxury ship in the region.
Designed to reflect the colors and laidback vibe of Tahiti, the ship features a history lesson in a collection of original Tahitian art and artifacts, along with a digital library that includes 150 works of the French post-Impressionist artist Paul Gauguin, and serves French Polynesian cuisine in addition to French and international dishes. You can get a massage with oil from local flowers and based on Polynesian techniques. On select sailings, your kids can learn about culture and nature via a partnership with local educational and preservation group Te mana o te moana.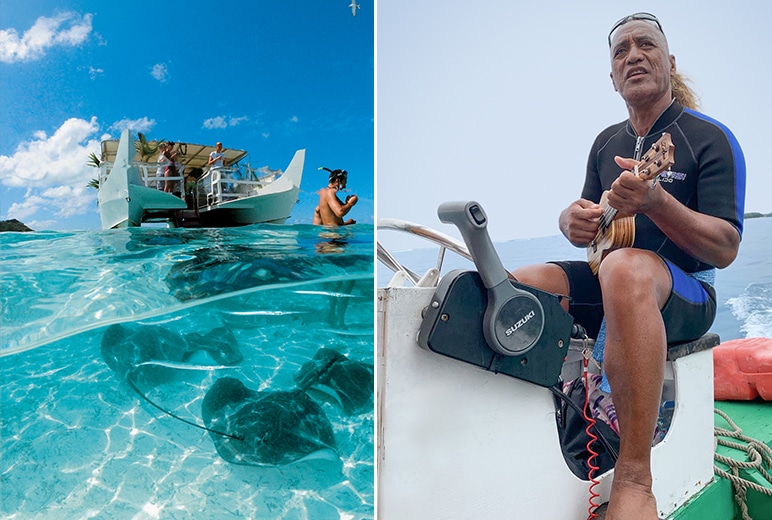 After thrilling you with a swim with reef sharks and rays, your outrigger captain may serenade you with Tahitian tunes.
The cultural experience goes deeper. In Polynesia, an island is not just an island, a mountain not just a mountain; there may be a deep tale of love and jealousy, rage and rebirth associated with its formation. On the m/s Paul Gauguin, Les Gauguines, the ship's resident troupe of locals – four women and two men – give you the backstory. With Paul Gauguin Cruises, you don't see only the sights of the islands, you get a front-row seat to a fascinating culture.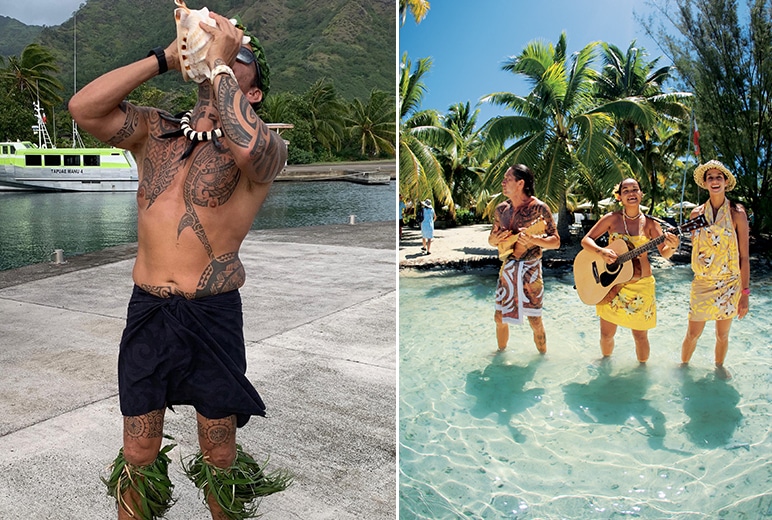 The ship's cultural ambassadors, Les Gauguines, greet visitors on shore at the ports of call.

A bare-chested social host wearing a pareo skirt may play a ukulele or blow a seashell. If you ask, he will give you a tour of his impressive dark tattoos that connect him to his ancient Ma'ohi ancestors. A pareo-clad hostess with a flower in her hair may teach you to make a delicate shell bracelet or bark necklace and share stories of her personal life and experiences. As cultural representatives, Les Gauguines are the heart and soul of the m/s Paul Gauguin experience.
The troupe performs in The Grand Salon, wearing elaborate costumes to highlight expressive Tahitian dances. Through movements of hips and arms and chants and songs accompanied by such instruments as two-skin drums and the ukulele, you learn about local traditions and history. In complimentary sessions, you can pick up a few dance steps, discover the many ways to tie a pareo, or learn a few words of Tahitian.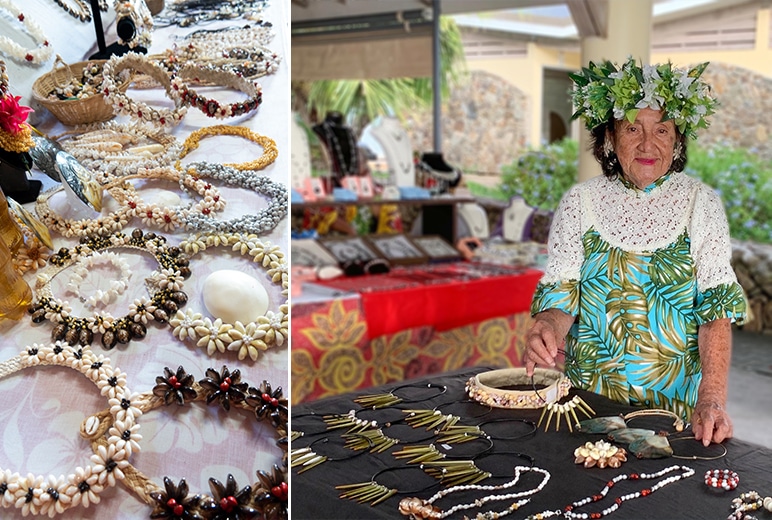 Pick up shell necklaces and other crafts right at the pier in Moorea.
Having learned from Les Gauguines, expect warm smiles when you greet people on shore with la ora na (good morning). Itineraries with overnights on islands such as Bora Bora and Moorea allow time to linger. Locals on the ship's shore excursion team are happy to share tips on where to go and what to do.
Working with Tahitian operators, The Gauguin also offers organized tours to suit many tastes. A popular activity that comes with bragging rights is taking an outrigger to shallow waters where you can swim with reef sharks and rays.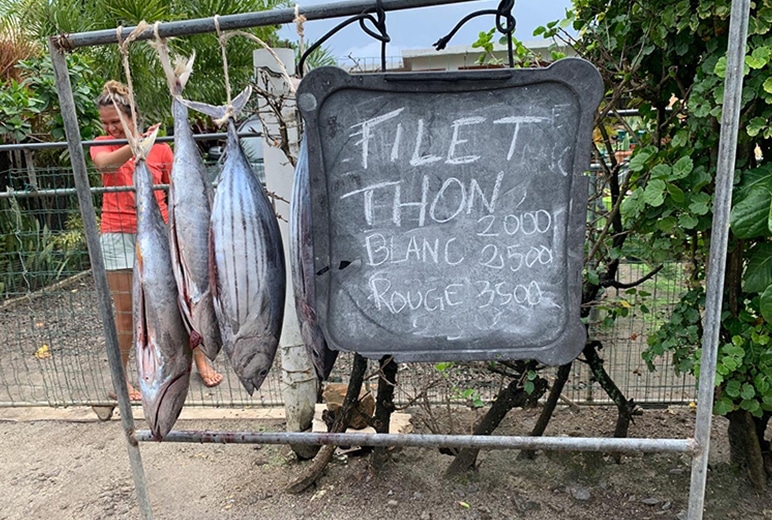 Stretching your legs on a walk you may encounter locals in their every lives, such as this woman selling fish in Bora Bora.
From the ship's own marina, you may borrow kayaks or paddleboards for exploration. The m/s Paul Gauguin operates its own PADI diving program with excursions for all experience levels
Sunsets and dancing under the stars, intimate encounters with sea life, such simple pleasures as napping under swaying palm trees, these are part of The Gauguin experience. So is seeing the pride in the face of a young child chosen to show off a hip move as Le Children of Huahine come onboard to perform. In Papeete, two-dozen members of the award-winning professional folklore dance group O'Tahiti E visit the ship for a mesmerizing performance, storytelling through music and dance.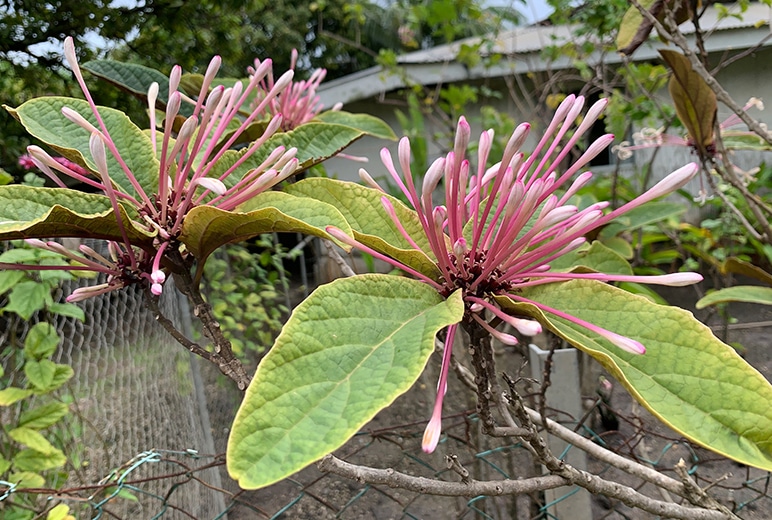 Tahiti is a place where you will want to stop and admire the flowers.
Cultural immersion is at its highpoint shipboard during the weekly Polynesian Night when crew and guests are decked out in flower leis (necklaces) and heis (crowns) created by local artisans, and the smell of gardenias fills the air. A Polynesian feast features such dishes as poisson cru (tuna marinated in coconut milk and lime) and broiled lobster with Tahitian vanilla sauce. And after dinner, Les Gauguines dramatically perform. Lasting memories ensue.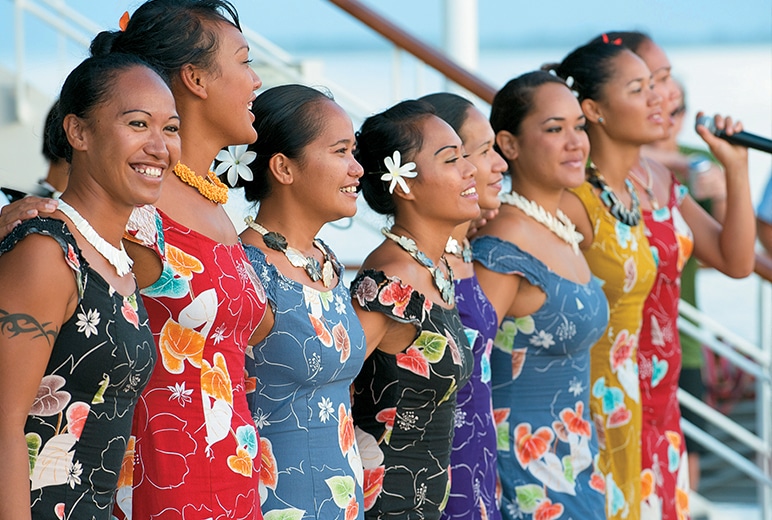 The warmth and welcome of Les Gauguines aboard the m/s Paul Gauguin.