We Look Forward to Working With You!
Polynesians have been greeting visitors for centuries with open arms and broad smiles. This Polynesian spirit of welcome, warmth, and geniality infuses every aspect of life aboard the m/s Paul Gauguin. As the leading specialist in French Polynesia and the South Pacific, Paul Gauguin Cruises can reveal this enchanting destination as no other cruise line can.
With newly decorated spacious suites and staterooms (nearly 70% with private balconies), an onboard watersports marina, three dining venues, an extensive spa and five-star service — The Gauguin is the perfect overwater floating "bungalow. Her sleek design and small footprint allow us to deliver unique itineraries and explore hidden destinations that are inaccessible to larger ships. With the highest crew-to-guest ratios at sea, your clients will experience unparalleled service while they cruise the exotic South Pacific steeped in luxury, surrounded by fine linens, chilled Champagne and delicious cuisine.
Help your clients choose their perfect voyage from a wide range of carefully tailored itineraries, all featuring azure lagoons, historic gems, fascinating culture and of course, plenty of relaxing downtime.
---
Sales Support
Our sales team are experts in the cruise and travel industry and look forward to providing the travel advisor community with exceptional service and support for our luxury, small-ship voyages. Contact us by phone or email.
Say hello to our team!
---
Marketing Resources
If you are looking for marketing resources to promote Paul Gauguin Cruises, we have a variety of tools available for your use including logos, graphics, branding guidelines, photography, social media resources, videos, and webinars to promote Paul Gauguin Cruises. Email us for access to these resources.
Join our email list to stay on top of our latest offers, and order brochures to share with your clients! We look forward to working with you!
---
Groups Program
Sharing the discoveries offered by travel enriches any trip—especially when the trip is a luxury cruise aboard The Gauguin.
Please contact your regional Director of Sales for more information on setting up a Group sailing. You may also email our Groups Department or call 877-495-0859, press 1 and then 3.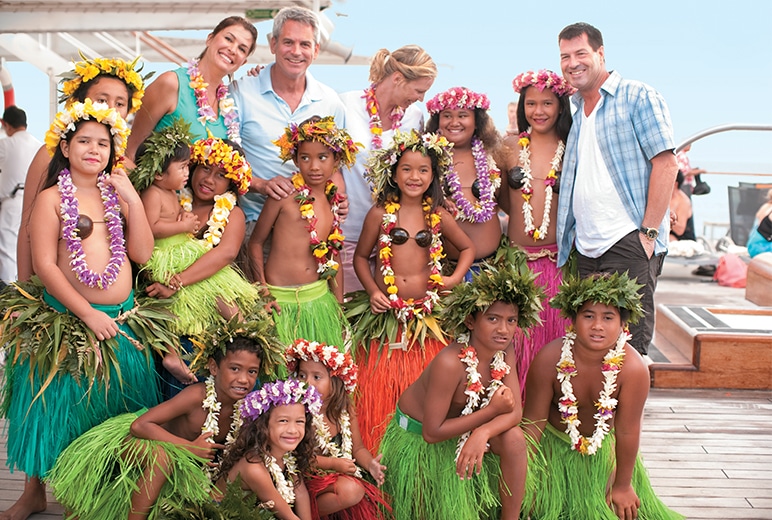 ---
PEARLS Program
At Paul Gauguin Cruises, we believe there is huge potential for the travel advisor who establishes themself as an expert in select areas and product lines. With this in mind, and respectful of the busy lives we all lead, we have designed an educational program that will give those who participate a distinct advantage: in-depth knowledge, insider information, and solid sales techniques that work!
Our program requires only a modest amount of time and effort to take in all the knowledge you need to find, cultivate, sell to, and keep the type of client that will enjoy our luxury soft adventure cruises in Tahiti, French Polynesia, and the South Pacific.
We welcome you to the program and remind you that we want to hear from you all along the way as we continue to extend the spirit of Polynesian hospitality to some of the most magical places in the world!
For more details on Paul Gauguin Cruises PEARLS Program, please email us.